Biggest success? NATO proud of Libya op which killed thousands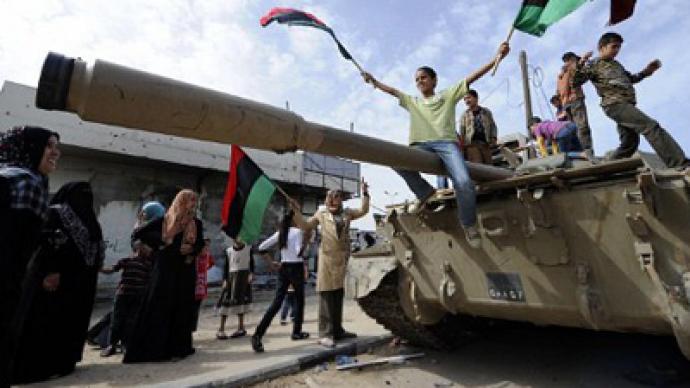 With Gaddafi dead and its "military job now done," NATO has declared its campaign in Libya one of the "most successful in NATO history." However, untold casualties and a country devastated by war call into question the alliance's notion of success.
Coming through on last week's promise to end military operations in Libya, on Friday NATO Secretary-General Anders Fogh Rasmussen declared the military operation in Libya would be wrapped up on October 31, the Associated Press (AP) reports.  His announcement came a day after the United Nations Security Council passed a resolution to lift the no-fly zone over Libya.  Speaking from Brussels, Rasmussen said that following the death of Gaddafi, military operations were able to wind down quickly, noting triumphantly that "Operation Unified Protector is one of the most successful in NATO history,'' as cited by AP.  US President Barack Obama was equally full of praise for the operation.  Speaking on the popular late night talk show The Tonight Show with Jay Leno, Obama told the host operations in Libya "only cost us a billion dollars" and no US troops were killed or injured.
The price of success
Speaking on March 31, Bishop Giovanni Innocenzo Martinelli, Apostolic Vicar of Tripoli, reported that "the so-called humanitarian air raids have taken the lives of dozens of civilians in various areas of Tripoli."  The senior cleric went on to say "in the district of Buslim, a building collapsed because of the bombing, killing 40 people," as cited by Agenzia Fedes, the information service of the Pontifical Mission Societies.However, despite the decision to turn a blind eye to the casualty figures, one of the few instances the alliance could not deny culpability in was a June 19 NATO missile strike that resulted in the deaths of nine civilians. Attacks of this nature were happening on a daily basis throughout the intense bombing campaign.    Speaking in September, the health minister in the new Libyan government estimated that at least 30,000 people had been killed and 50,000 wounded during the first six months of the war. Some, however, have estimated that the real figure could be much higher.  Writing back in September, Thomas C. Mountain, an independent journalist currently living in Africa who was a member of the 1st US Peace Delegation to Libya in 1987, estimated that NATO had dropped over 30,000 bombs on Libya, with an average of "two civilians killed in each attack." Thus, Mountain has estimated that some 60,000 Libyan civilians had been killed by NATO air strikes alone by the end of August.  Shortly thereafter, when rebel forces began the siege of Sirte, Moussa Ibrahim, a spokesman for the now-deceased Libyan leader Muammar Gaddafi, told Reuters via telephone on September 19 that "in the last 17 days, more than 2,000 residents of the city of Sirte were killed in NATO air strikes."As of today, some 26,000 NATO sorties and 9,600 strike missions have been conducted by NATO, with an average of four bombs used per attack.  
A country in ruins
Though it may never be known just how many died in "the most successful operation in NATO history," the alliance has shown little interest in rebuilding a nation that has in many ways been wrecked by its seven-month military campaign.  According to Palestinian human rights activist Shawan Jabarin, "The military operation damaged everything in Libya, not just Gaddafi and his regime, but the society [as well]." Former MI5 agent Annie Machon went further, telling RT that NATO's intervention had plunged Libya back into the Stone Age."They've had free education, free health, they could study abroad. When they got married they got a certain amount of money. So they were rather the envy of many other citizens of African countries. Now, of course, since NATO's humanitarian intervention, the infrastructure of their country has been bombed back to the Stone Age," Machon asserted. "They will not have the same quality of life. Women probably will not have the same degree of emancipation under any new transitional government. The national wealth is probably going to be siphoned off by Western corporations. Perhaps the standard of living in Libya might have been slightly higher than it is now in America and the UK with the recession," she concluded.Outside of the damage done to Libya's infrastructure and economy, Thursday's UN resolution also expressed "concern at the proliferation of arms in Libya and its potential impact on regional peace and security," as cited by Reuters.  As the circumstances surrounding Muammar Gaddafi's death remain a mystery following his capture by a mob on the streets of Sirte, analysts fear that armed groups answering to no central authority could prove to be the new ruling model for some time to come in NATO's newly-liberated Libya.
You can share this story on social media: