Pakistan to 'completely review' ties with US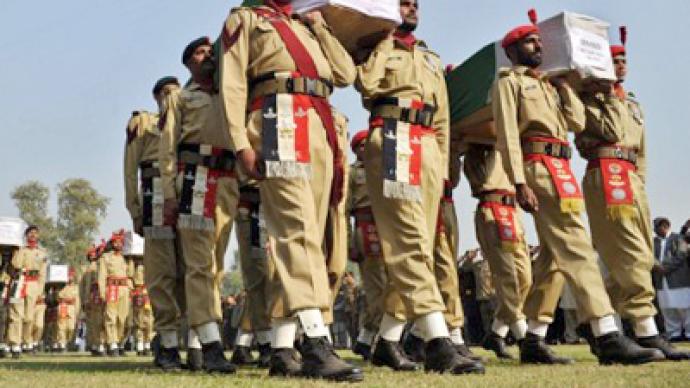 Pakistan says it is reviewing its relations with the US and NATO and has taken "urgent action" after a NATO attack on Friday killed 24 Pakistani soldiers. A key Afghan border has been sealed and the US ordered to quit an air-base in the country.
NATO helicopters allegedly fired on a checkpoint in northwest Pakistan's Mohmand tribal area near the Afghan border.The decision to review relations was taken at an urgent meeting of Pakistan's government defense committee with the participation of Prime Minister Yousuf Raza Gilani and top military and government leaders. In a statement, officials said "the government will revisit and undertake a complete review of all programs, activities and co-operative arrangements with US/NATO/ISAF, including diplomatic, political, military and intelligence."Islamabad condemned what it called an "unprovoked attack" by NATO helicopters. The statement called for "strong and urgent action against those responsible for this aggression."Pakistan's foreign minister, Hina Rabbani Khar, has told US Secretary of State Hillary Clinton that the incident has negated progress in improving the tattered alliance between the US and her country. AP quoted Khar as saying the attack was unacceptable and showed complete disregard for human life. She added that it had provoked rage among Pakistan's citizens. For her part, Clinton expressed sympathy over the incident and promised the US would work together with Pakistan as NATO conducts an investigation into the incident. NATO has not officially claimed any responsibility so far.NATO Secretary-General Anders Fogh Rasmussen has expressed his condolences, calling what happened on the border a tragic accident, Interfax reports. He said he had written to the Pakistani prime minister saying the deaths of Pakistan's soldiers are as tragic and unacceptable as losses among the Afghan or international coalition.Pakistan has cut a key NATO supply route to Afghanistan in the wake of the strike. Islamabad has also demanded that the US Air Force abandon Shamsi military airbase in Belujistan within 15 days in an official memorandum of the defense committee headed by Pakistan's prime minister.  Pakistani truck drivers carrying supplies to NATO troops in Afghanistan say they are now worried about militant attacks following the border closure. Nearly 300 trucks were stranded at the country's two Afghan border crossings on Sunday after Islamabad decided to block the coalition's supplies. Drivers say they hardly slept all night, fearing possible attacks. Suspected militants destroyed about 150 trucks a year ago after Pakistan closed the Torkham crossing for about 10 days following a similar incident.The 24 soldiers killed in the assault were buried on Sunday, with a prayer ceremony for the deceased at the headquarters of the regional command in Peshawar being televised. The coffins were draped in green and white Pakistani flags. Two officers were reported to be among the dead.About 500 members of Jamaat-e-Islami – Pakistan's most influential religious party – staged a protest, yelling "Down with America" and "Jihad is the only answer to America", Reuters reports. The rally took place in the Mohmand tribal area where the attack occurred. "They attacked our post and killed soldiers while they were asleep without any reason," a senior Pakistani officer told Reuters.Around 40 troops were stationed at the outposts at the time of the attack, military sources said.
You can share this story on social media: