Nationalists plan rally on Constitution Day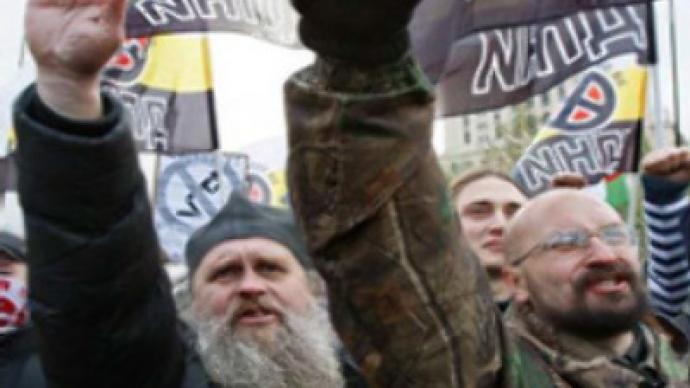 Russian nationalist groups have been banned from marching in central Moscow on Friday December 12 – the country's Constitution Day – but claim they have been allowed to hold a rally instead.
City authorities refused the request by controversial nationalist groups the Slavic Union and the Movement Against Illegal Migration to march near the Kremlin. Instead, they have been granted permission to hold a rally near Chisty Prudy metro station, a leader of the nationalists said.
Both groups have a history of organising violent attacks on people of non-Slavic origin, and have called for "Russia for the Russians."
The action comes just a month after the nationalists tried to hold an unsanctioned march in the city on November 4 – People's Unity Day.
'Follow the Constitution'
Dmitry Dyomushkin, the leader of the Slavic Union, said the organisers had agreed that a maximum of 350 people would take part in the rally. But city authorities have not yet confirmed that the rally can go ahead.
"They have given permission to me with shaking hands – and now they're using every possible way to warn me about my responsibility", said Demushkin, who was called into the Prosecutor General's Office for discussions about the rally.
He added the protesters would not break the law, and their slogans would include would include: "Follow the Constitution", "We demand freedom of opinion and expression" and "Russia belongs to citizens, not officials".
A total of 500 people were arrested on November 4 after police blocked nationalists' attempts to march.
One of the top nationalist leaders, Alexander Belov of the Movement Against Illegal Migration, won't be able to take part in Friday's rally. He was hospitalised last week after being beaten up by unidentified attackers, according to Interfax.
Opposition plans unsanctioned march
An opposition coalition, The Other Russia, plans to hold an unsanctioned "Dissenters' March" on December 14 in Moscow.
Talks with city authorities on the march failed to reach agreement, said one of the organisers, Edward Limonov, who leads the banned National Bolshevik Party.
You can share this story on social media: