NASA tests space suits for manned asteroid missions (VIDEO)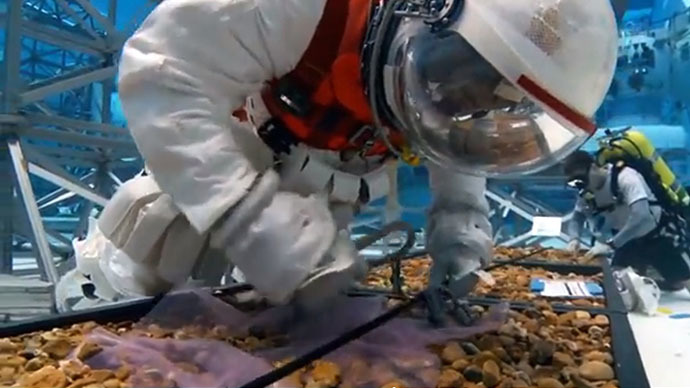 NASA engineers are conducting underwater tests of a new space suit, as the agency prepares for ambitious manned missions to the Moon, Mars, and an asteroid. The suit was redesigned from the "pumpkin" outfit used in shuttle missions.
The modified suit will allow more mobility for future astronauts and will also allow for more space in the Orion Multi-Purpose Crew Vehicle, which is being built to become America's next manned spacecraft.

NASA has been eyeing to equip Orion's crew with something less bulky than the usual space suits.
Due to its size and movement limitations, the so-called Extravehicular Mobility Unit - worn by astronauts during spacewalks on the International Space Station (ISS) - was seen unfit for deep space missions. Given that the Orion crew module has just 8.9 cubic meters of space for four to six people on board, NASA thought the pumpkin-orange Advanced Crew Escape System (ACES) used by space shuttle astronauts could be more suitable for the job.
An upgraded version of the suit has been designed, and is being tested in the Neutral Buoyancy Laboratory near the agency's Johnson Space Center in Houston. To imitate all the possible mission scenarios, the lab has been using a giant pool with mock installations, including full-scale models of the ISS.
NASA has released a video showing how the underwater tests are done. The agency also used computer graphics to show what the actual asteroid mining mission could look like.
Dustin Gohmert, crew survival systems manager at Johnson, says that while the shell of the suit looks "very much the same" as the orange suit used by shuttle astronauts, its inside has been overhauled.
"We're stepping back to our heritage to be able to use one suit for multiple tasks," Gohmert said, referring to the long-running history of the pumpkin-orange suit, which evolved from the early NASA spacesuit worn by the first US astronaut who ventured outside a spaceship in 1965.
You can share this story on social media: