NASA's laser-linked spacecraft hunts for moon dust
NASA has launched a new robotic mission to the moon. LADEE is to study exosphere, the thin volume of gas and dust particles surrounding the satellite. It is also equipped with an experimental high-bandwidth laser communication device to deliver the data.
The orbiter lifted off from the Mid-Atlantic Regional Spaceport at Virginia coast on late Friday on a Minotaur V rocket, which made its debut flight in lifting its payload from the gravity well.
The site was chosen because three of the rocket's five stages came from a refurbished intercontinental ballistic missile, and an international treaty with Russia limits the number of sites that are allowed to launch ICBMs.
The $280 million Lunar Atmosphere and Dust Environment Explorer mission is to last for at least 100 days. The probe is expected to take a month to travel to the moon and will orbit over its equator at a low altitude of about 50 km. It will take another month to test its systems before the spacecraft begins measurements.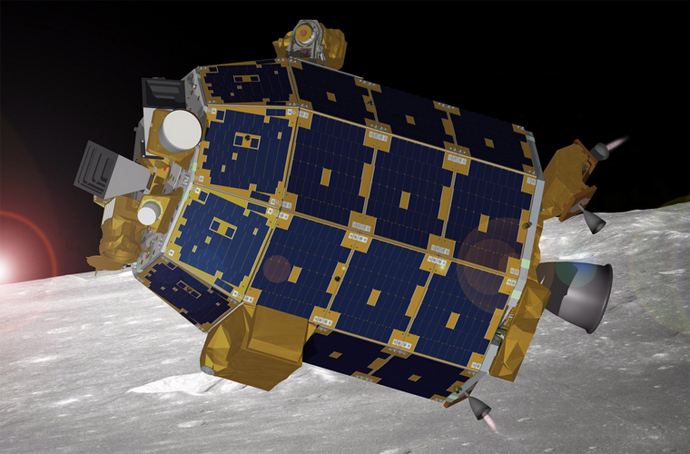 LADEE will use its dust impact detector and other instruments to measure the exact density of the thin lunar atmosphere, which contains argon, helium, sodium, potassium and other elements.
The study is hoped to clarify a phenomenon, which Apollo pilots reported 40 years ago. Crews said they saw an odd glow on the lunar horizon just before dawn, which scientists believe was electrically charged lunar dust somehow being lifted from the surface.
The spacecraft will also test a new experimental laser optical communication device, which uses laser rather than radio waves to exchange information, as through optical fiber lines.
The technology can potentially provide data transmissions at rates 10-to-100-times faster than radio frequency communication offers to space missions now. NASA hopes to incorporate it into its future robotic missions, including a Mars rover scheduled for launch in 2020.