Mystery voice encourages treasure hunters to submit bounty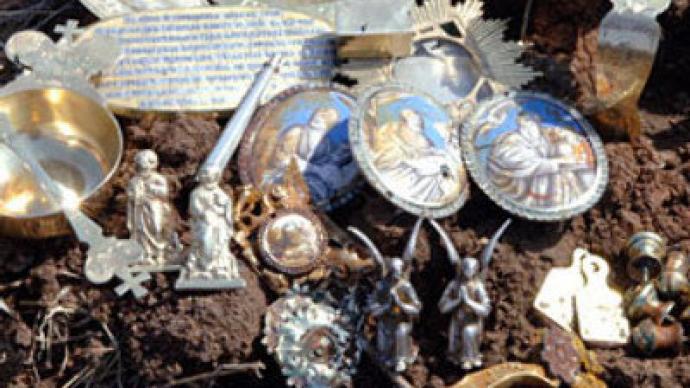 Fellow treasure hunters in Russia's Kaluga Region claim they were subjected to superhuman influences after discovering a buried church treasure when a voice prevented them from selling items belonging to the church.
Growing up near the Ugra River – where the famous confrontation between the Russian army and Tataro-Mongol horde took place in 1480 – Vyacheslav Agapov and Konstantin Chiliskin became obsessed with finding ancient coins and other items.
Obtaining a metal detector, Vyacheslav and Konstantin began conducting amateur searches.
At their friend Roman's invitation they visited the Velino village, where the Shirinsky-Shikhmatov estate once stood.
"We knew that the estate was lived in by someone who was wealthy, so coins were likely to be found," Vyacheslav Agapov said during an interview with Komsomolskaya Pravda.
However, today the estate is in decline. Only the foundation remained from the main house, and most of the other buildings were long demolished. The only building that remained standing is the defunct Velino church built in 1722.
In a ravine behind the church Vyacheslav and Konstantin had some luck. Just a few feet underground – the spades were hardly even used – they found a pot containing a collection of icons and holy vessels decorated with precious stones.
The two then called Roman to help determine what they should do with the treaure.
One of the vessels had an engraving saying "Property of Velino Church", however Roman rushed to call a local dealer, who immediately offered $20,000 for the items without even seeing them.
"But we felt we had no right to sell the items, especially knowing who they belonged to," Vyacheslav said.
Thankfully a strange event, which Vyacheslav believes to be divine, or at least superhuman intervention, prevented the treasure hunters from selling the treasure at the last minute.
Separated from Vyacheslav and Konstantin for a few minutes, Roman began hearing a voice calling him. He also felt like he was being patted on the shoulder, though no one was nearby. At first he tried to ignore it, attributing it to fatigue. However a repeated call and a stronger hit on the shoulder scared him stiff.
Roman immediately left Velino, leaving Vyacheslav and Konstantin to choose to do what they like with the treasure. Reluctant to make money from the items, treasure hunters eventually chose to return them to the church.
It has to be added that ancient Slavs believed that to avoid misfortunes, treasures can be touched only three days in a year: on New Year's Eve, Easter and Ivan Kupala's day (a pagan holiday celebrated on June 24).
Though treasures have been unearthed only occasionally in recent years, attempts to steal church property are often accompanied by mystic events.
In 1990, thieves who stole an icon depicting the Orthodox saint Seraphim Sarovskiy became the victims of accidental fires at their homes prior to being captured by the police. And after some 40 icons were stolen in March 2008, the thieves were quickly captured again and one of them died after becoming sick while in custody of the police.
You can share this story on social media: