Mystery hangs over death of student sect member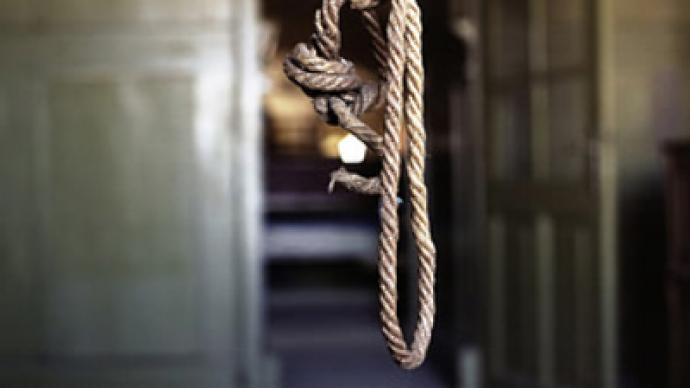 Third-course student hung himself using a computer wire and wrote in his suicide note that he was a sect member and connected to the disappearance of 50 people.
The body of the student was found on June 15 in his room on a campus of one of Moscow's major universities – Moscow State University (MSU). He had tied the wire to a double-decker bed and hung himself. On his computer screen the young man left a suicide note in which he confessed to being a member of a sect for more than two years.
"I'm a sect member. I've been working for them for more than two years. Don't feel sorry for me, I have no other choice," the note reportedly said.
In the note, the suicide victim gave detailed instructions to his roommate on how to reach his parents and let them know about the incident and he also left his bank account information. He further asked to have a message about his death posted on a gamers' forum of a strategic computer game he participated in. Friends of the dead student sarcastically joked: "Real gamers even commit suicide using a computer wire," reported Moskovsky Komsomolets newspaper.
But the case took another twist when a same-course student, preferring to remain anonymous, decided to share some views on the incident with the RIA Novosti news agency. According to that information, the dead student was dismissed from the university three days prior to the incident. He didn't pass a test and failed to reach the summer exam session.
However, faculty official Boris Berezin denied reports of the student's dismissal.
"He wasn't dismissed from Moscow University. He was allowed to take summer exams. He passed some pre-exam tests but then disappeared for three weeks and wasn't taking phone calls," Berezin told the RIA Novosti news agency.

Officials from the university believe a nervous breakdown most likely caused the accident to happen. The young man was taking courses in one of the most difficult faculties – calculus, mathematics and cybernetics.
"During exam sessions, some students lose their nerve," noted a representative of the University's press office.
Criminal officials investigating the case have primarily focused on sect membership as being the main reason for the student's death. But neither the name of the sect nor any clues on the names of those 50 missing people, mentioned in the note, were found.
But Aleksandr Dvorkin, the president of the Russian Association of Centres for Religion and Sect studies, says the dead student hardly was a sect member.
"A sect member would never call himself that. If a person understands that it is a sect, he quits it, considering it a not-real community," Dvorkin said.
Dvorkin suggests either the note was not written by the dead student or he suffered from psychological problems.
The same-course students say he was a very quiet person and sometimes behaved strangely, but they can't believe he was into a sect.
And though MSU officials assured the public that there are no sects within the university, Father Maksim, from a church located near the University, says unfortunately there are some sects operating nearby.
"They are not as active as they were several years ago, but there are some followers of false religious studies among students. There are several organizations that operate in the university and which predict an apocalypse will arrive soon. It can be possible that the young man was a member of such an organization," Father Maksim told Komsomolskaya Pravda newspaper.

Read also: Boy taken to hospital after playing computer games for 40 hours
You can share this story on social media: