'Age of Mockery': 10,000 protest anti-Muslim video at Google's UK HQ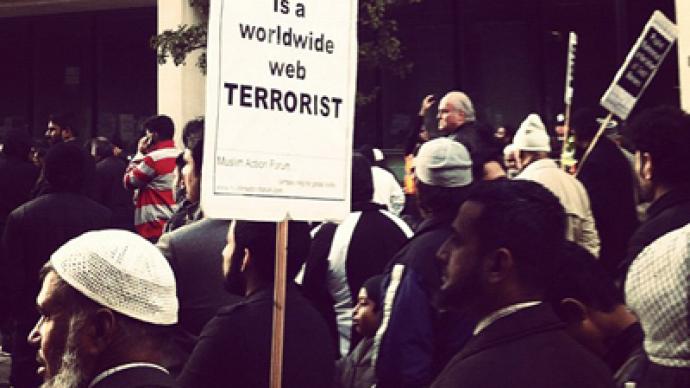 Thousands of Muslims massed outside Google's UK headquarters for a protest demanding the company to take down an anti-Muslim YouTube video that has sparked worldwide outrage. Protesters said they would continue until their demand is met.
Some 10,000 Muslims traveled to London from different parts of the country for the first of a planned series of organized attempts to press video-sharing website YouTube – a subsidiary of Google – to take down the video 'Innocence of Muslims,' which is still viewable in the UK. Demonstrators carried banners reading 'Google Supports Terrorism' and 'Freedom of Speech = hatred to Muslims?' and chanted that the video is "hateful and offensive" and Muslims now live in an "age of mockery.""Until it is banned we will keep protesting", organizer Masoud Alam told the Telegraph. "This is not freedom of expression; there is a limit for that. This insult of the Prophet will not be allowed."
The next protest will supposedly be a million-person march in Hyde Park, and will take place sometime next week. About 800 imams helped to organize the Google protest, and many spoke at the demonstration. "Organizations like Google are key players and have to take responsibility for civility. You can't just say it doesn't matter that it's freedom of speech, its anarchy," Sheikh Faiz Al-Aqtab Siddiqui said in a speech at the rally. YouTube refused to take the video down, claiming it falls within the company's guidelines."We work hard to create a community everyone can enjoy and which also enables people to express different opinions," a company spokesperson said. "This can be a challenge because what's okay in one country can be offensive elsewhere. This video – which is widely available on the Web – is clearly within our guidelines and so will stay on YouTube."
Video sparks global anti-US protests
'Innocence of Muslims,' the amateur video that sparked a rising tide of global anti-US sentiment in the Muslim world, satirized and ruthlessly mocked Islam's Prophet Muhammad. The movie depicted the Prophet as a fraud and a philanderer who, among other sins, approved of sexually abusing children. Hundreds of thousands demonstrated across the Middle East, Asia, Europe and North America. Violence broke out at several of the protests, killing 80 and injuring hundreds more.One of the most violent incidents saw thousands mobbing the US embassy in Tunis and storming the compound. Rioters burned the building's American flag, looted property and torched buildings.The California man believed to be the creator of the film is currently being held in a federal jail in downtown Los Angeles for possibly violating his probation by making the film. Authorities are investigating whether Nakoula Basseley Nakoula, 55, violated the terms of his supervised release from a 2010 conviction in a bank fraud case, which prohibited him from accessing the Internet without prior approval or from using any name other than his legal name.
You can share this story on social media: