Muslim Brotherhood leader arrested in Egypt
Published time: 30 Oct, 2013 02:12
Edited time: 30 Oct, 2013 04:53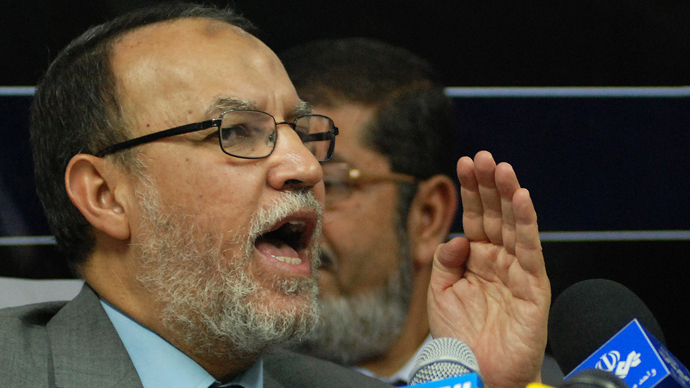 Amid the ongoing crackdown on the Muslim Brotherhood, Egyptian authorities have arrested Essam El-Arian, the vice chairman of the Freedom and Justice party. He was one of the few Brotherhood leaders remaining free since the ouster of President Morsi.
"Yes, he's been arrested and details will soon be released," an Interior Ministry source told Reuters on Wednesday.

Egyptian state news agency MENA reported that Erian was arrested in New Cairo, but did not provide any other details. Local media disseminated a photo of what was allegedly the moment of the arrest, depicting a smiling Erian standing next to a bed with two packed duffle bags, Reuters reported.
In September, an Egyptian court banned all Muslim Brotherhood activities and ordered its assets confiscated, according to the ruling.

"The court bans the activities of the Muslim Brotherhood organization and its non-governmental organization and all the activities that it participates in and any organization derived from it," presiding judge Mohammed Sayed said last month.

The Brotherhood has been outlawed for most of its 85-year existence. However, after the ouster of former President Hosni Mubarak, it formed a political party and organized elections. 
In June 2012, the Muslim Brotherhood's Mohamed Morsi won Egypt's presidential election. But on July 3 of this year, the army overthrew Morsi after he rejected the military's ultimatum to reach an agreement with the country's opposition. The constitution was also suspended.  
The crackdown on the Muslim Brotherhood began shortly after the army announced a power take-over, with arrest warrants for hundreds of Brotherhood officials issued.
In March 2013, the Muslim Brotherhood registered as a recognized non-governmental organization in response to opponents who disputed its legal status in court. 
After suspension of the Islamist constitution, Cairo's administrative court and the Ministry of Social Solidarity were ordered to review the Brotherhood's legal status. 
Earlier in September, an Egyptian judicial panel recommended the legal dissolution of the Muslim Brotherhood as an officially registered non-governmental organization. 
The leader of the Muslim Brotherhood, Mohammed Badie, remains in prison - along with his deputies, Khairat al-Shater and Rashad al-Bayyumi. More than 30 members of the association are accused of inciting the murders of protesters last summer.
In August, authorities arrested Badie at an apartment in Nasr City - located in Cairo's northeast. Badie had already been charged with inciting the murders of protesters in June.