Pakistani ex-President Musharraf charged with high treason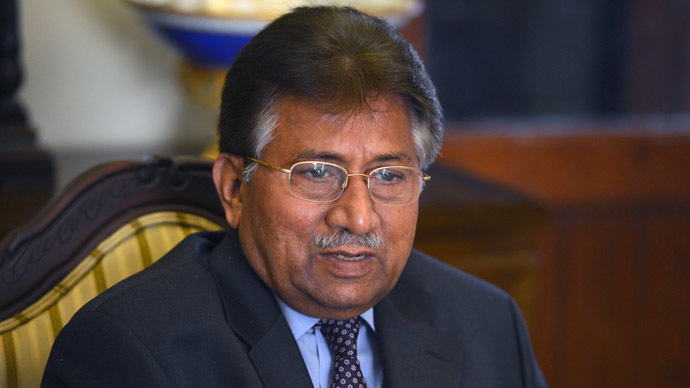 A Pakistani court has charged former President Pervez Musharraf with treason for implementing emergency rule and suspending the constitution in 2007. Musharraf has already been found guilty of the murder of former Prime Minister Benazir Bhutto.
If convicted of the charges he could face the death penalty. Musharraf has pleaded not guilty and claims the charges are politically-motivated.

Judge Tahira Safdar read out the five charges in the hearing which included treason for subverting the constitution and instituting emergency rule in Pakistan in 2007. Musharraf defended himself in the court hearing and made a speech in which he named himself a patriot and said he had acted within the constitution when he declared a state of emergency.

"I am being called a traitor, I have been chief of army staff for nine years and I have served this army for 45 years. I have fought two wars and it is 'treason'?" he told the court. His lawyer later asked for permission for Musharraf to be exempt from house arrest to visit his ailing mother in Dubai.
Musharraf tendered his resignation as president in 2008 because of mounting charges against him by the Pakistani opposition. He then fled into exile in London for four years, returning to Pakistan in March last year with the intention of running in elections.

However, in his absence the Pakistani government had issued warrants for his arrest in connection with the murder of former Prime Minister Benazir Bhutto and Musharraf was barred from running in the elections.

The former president was indicted for the murder of Bhutto in August of last year. Then-opposition leader Benazir Bhutto was killed in December 2007 during a political rally in the city of Rawalpindi by a suicide bomber. The judge ruled that Musharraf was complicit in her murder because he had not provided adequate security during the rally.
Musharraf's trial has been dogged with delays since it began last November. Initially the former president refused to present himself at a hearing after it was found that incendiary devices had been planted along the road to the court. In addition, he was taken to hospital with chest pains on the way to court at the beginning of January.
You can share this story on social media: