Murdered journalist may have tried to stop shooter - colleague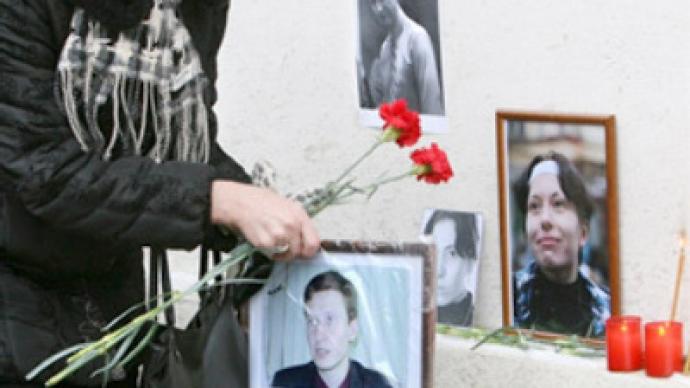 She'd turned 25 just over a month ago. Close to graduating from Russia's most prestigious university, with an interesting job, journalist Anastasiya Baburova had her entire life before her.
So much to do, people to meet, places to see, wrongs to right.
But she never got the chance.
Leaving a press conference on Monday, she was fatally wounded by an assassin, who had just seconds before killed a prominent Russian lawyer.
Doctors did all they could – but they needed a miracle to save her. And it just wasn't the day for miracles.
Investigators will now look through every scrap of paper she had, talk to every person she'd known and try to figure out why Nastia was shot – and who pulled the trigger.
But until they do – and possibly long after that – those who knew her will try to come to terms with her murder, and fight her battles in any way they can.
Ilya Donskih worked with Nastya for the Novaya Gazeta newspaper. He was actually the one who helped her get a job there.
"We were acquainted from university. And one day, she came up to me and asked if I thought she could get a job with Novaya Gazeta. I told her I didn't think it would be a problem. Soon after that, she was hired as a freelancer."
She wrote mainly about various youth movements, focusing on Neo-Nazism. Because she worked freelance, and still studied at Moscow State University, she rarely came into the office, and didn't have a regular desk or favourite spot. But she was really liked, Ilya says quietly, and got along with pretty much everyone on the team.
"I know the editors were happy with her work. And I'm sure that she would have become a permanent member of the team very soon."
We talk long after the Novaya Gazeta issue dedicated to Nastia and Stanislav Markelov has been sent to press. It's late, and there are only a few people left in the offices of the paper. Ilya is tired, quiet, reserved. I can't even begin to imagine what I would be like if I were in his shoes. He tries to make sense of the tragedy – but how can you make sense of something so terrifying, so meaningless and final?
"Its the most frightening thing that has ever happened to me. I can't put it into words. Impossible or unfair doesn't even begin to cover it. It's like, with Anna (Politkovskaya), or even with Stas (Stanislav Markelov) it was always a possibility. I know that sounds horrible, but in a way, their jobs were very dangerous, and they weren't afraid to speak out. They knew of the dangers involved. And they've both managed to accomplish so much. Nastya….Nastya never even had the chance. It wasn't meant to be her time."
Ilya knows he, or anyone of his colleagues could have been at that fatal press conference instead of Nastya. It was just an editorial decision. She went – and is never coming back.
We sit quietly for a few moments. Then I muster the courage to ask him something personal again, something I know will be painful to say aloud, or even think about – but I must.
"Was it like her, to try and stop the shooter? Could she have gone after him?
"It was. She was…brave. She was brave and strong, and I don't doubt for a second that she would have tried to do something. Standing by was just not who she was"
He is both sad and quietly proud as he says this. Sad that she is gone – but proud of her, because she was like that. Brave, and strong. With a very firm belief of what needs to be done, what has to be done.
"Last time I spoke with her, it was the Christmas holidays in Russia. The paper's staff were all on holiday, people on vacations and celebrations, or even just a few days of peace and quiet. She phoned me up and said "I need something printed". I told her that it was the holidays, that no-one was working, but she wouldn't take no for an answer. "I have to do it, Ilya. It has to be seen. It just has to, you know?"
It was. And will be. Ilya says everything that Nastya was working on will be finished, and published.
Because it, too, has to be seen. It just has to be.

By Katerina Azarova, RT
You can share this story on social media: