Indian government vs slums in battle for Mumbai airport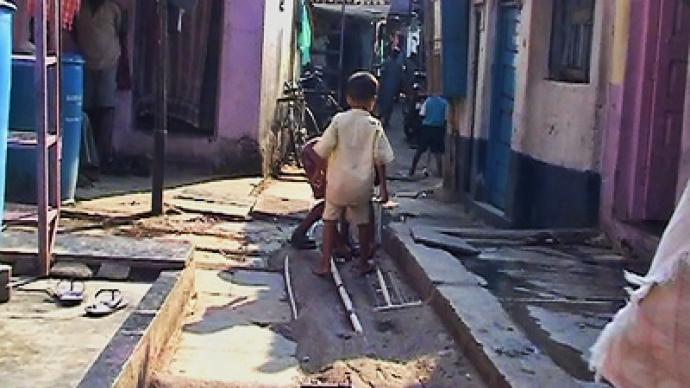 Mumbai's main airport is the biggest aviation hub in India and the whole of South Asia. But plans for its much-needed expansion are being hampered as it is surrounded by slums.
The slums are the first glimpse most people get of Mumbai, India's financial capital. And it is not a pretty sight. With around 100,000 families sharing their walls with the international airport, the resulting slums are an eyesore.The government hopes to clear the 300 acres of airport land the slum has encroached upon. But attempts to relocate the slum dwellers have met with stiff opposition.Like many others there, Rekha Powar fears her livelihood will be disrupted if she moves."I am not concerned whether the airport is expanded or not. But where we are staying now, our replacement houses should be in the same area," Rekha Powar says. "Our livelihoods are here. Our children work at the airport, and the women earn money by cleaning utensils right here. If you relocate us, what will we earn? We are not moving from this area."
Two years ago, the state government gave the contract to leading developer HDIL to rehabilitate the slum residents by building them homes up to seven kilometers away. But with the state agencies acquiring land to accommodate only one in every four families, many prefer to stay put."With every change there is going to be resistance. But having said that, people are aware that slum rehabilitation in Mumbai works," says HDIL Managing Director Sarang Wadhawan. "At the same time, because they are being shifted from lands they are currently occupying, some of them will not qualify."The slum dwellers occupy prime land in the center of Mumbai, and they know it. An important source of votes, they know the government will hesitate to force them out. As a result, their demands have become even more ambitious."Each family should receive at least $US 180,000 as compensation. After all, if we want to buy a flat nearby, it will cost that much," says local resident Geeta Pujari. "This is expensive, but at least the family can live properly. The government can either give us this compensation money, or provide a replacement flat in this area."This situation has become an important test case for the government. "It's a huge security hazard also," Sarang Wadhawan says. "As far as the runway length is concerned, as well as the development of hangars, these are activities the airport requires, such as the expansion of the terminal building. Today we are choc-a-bloc at the airport, you have almost one hour of circling time for every aircraft."With Mumbai airport already congested, it desperately needs the land that the slums have encroached on, to increase capacity. A second airport has been sanctioned on the outskirts of Mumbai, but it will not be ready until at least 2015. In the meantime the government's battle against the slum residents rages.
You can share this story on social media: