MP, prosecutor, police chef and one dead body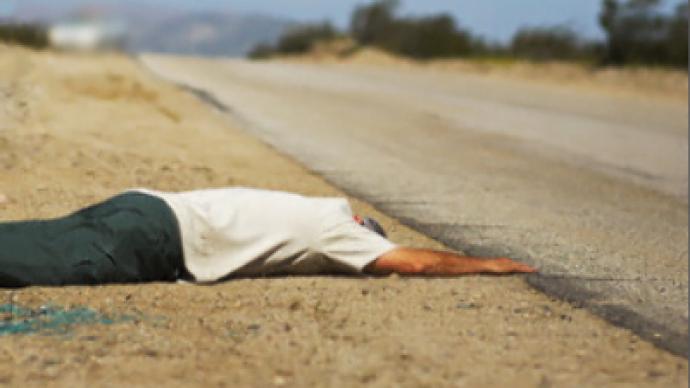 Three Ukrainian officials, including a parliament deputy, have become involved in an increasingly strange and deadly incident.
They claim to have fought an armed criminal with their bare hands while other reports claim the man was murdered in a fit of rage.
The incident happened last Tuesday night near the town of Golovansk in central Ukraine. Parliament member Viktor Lozinsky, along with the region's prosecutor, Mikhail Kovalsky, and police chief Evgeny Gorbenko, had an encounter with a local resident. The man was killed and later brought to a hospital with a gunshot wound. He was identified as Valery Oleynik, 55.
What happened between the four men is not known for sure and versions of the events are many and contradicting.
According to Lozinsky, he and his friends were driving through a hunting reserve when they spotted a man. For some reason they thought he was a poacher and yelled at him. The man pulled a gun and began shooting while trying to run into the forest. The three officials were not armed, but it didn't stop them from chasing the alleged criminal. The police chief ran from the car to summon a patrol while Lozinsky and Gorbenko drove after the fleeing man in the car.
"Of course we were afraid that we might get killed, but we were running on adrenalin after the first shots and didn't think of the danger. I'm not some old bag, as some people would expect a parliament deputy to be. I fought in Afghanistan, I often go hunting grizzly bears in Alaska," Lozinsky told Gazeta po-Kievsky newspaper.
The deputy and the prosecutor said they caught up with Oleynik, tripped him and took his gun. Then he pulled a knife and attacked the officials with it, landing several strikes. However, they prevailed and took the knife, too. But the man turned out to have another gun and didn't hesitate to produce it. By that time, a police patrol arrived and took over.
Lozinsky stressed that the police didn't open fire at the man and implied that he died from his wounds. This somewhat contradicts media reports that doctors in the local hospital confirmed that Oleynik had been shot.
Another version of the events is quite the opposite. The news website, proUA, reported that the three officials had a party and began shooting for unknown reason. Oleynik was wounded by accident and later died.
A more exotic version claims that the man was a hired gun attempting to assassinate one of the officials. Oleynik is reported to have served in the police before retirement in 1987.
"No regard for political aspect"
The criminal investigation is underway and both Kovalsky and Gorbenko have been suspended from their positions until it's over. Meanwhile, Lozinsky's involvement in the incident provoked political intrigue in Ukraine. He is a member of Yulia Timoshenko's Block and the head of the subcommittee on legislative control in organized crime and corruption prevention.
Vladimir Pilipenko, a fellow parliamentarian from Lozinsky's faction, suggested awarding the three officials for risking their lives to do their civic duty. He said their "helping prevent crime is worth respect and gratitude."
But the opposition Party of Region has called for a parliamentary investigation of the incident.
"The poor man goes into a hunting reserve and gets hunted by a 4x4, shot at and killed, and the police, who are supposed to protect him, de facto takes place in the deed. We must not turn a blind eye to it," said parliament member Aleksandr Efimov.
Timoshenko, for her part, called Ukraine's General Prosecutor to investigate the death "without any regard for the political aspect."
You can share this story on social media: