Tube chaos: One dead, hundreds stranded in Moscow subway flooding (PHOTOS)
Published time: 21 Mar, 2014 14:23
Edited time: 21 Mar, 2014 17:06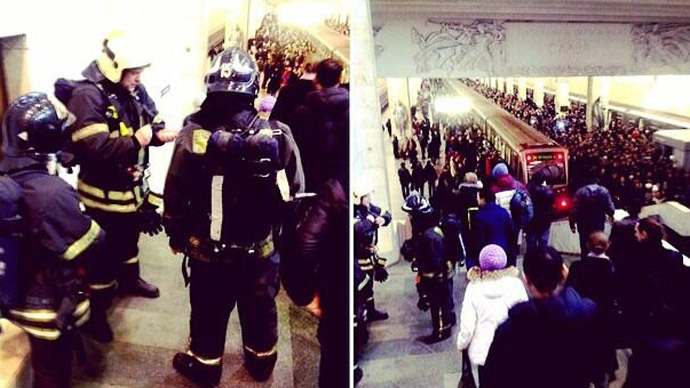 One man died while hundreds were stranded on the tracks when four Moscow metro stations got flooded on Friday. The flood paralyzed train movement in the western part of the Arbatsko-Pokrovskaya line, one of the busiest in the subway.
The man was an employee of the Mosvodokanal service which was doing some welding work on a water pipeline. At about 5 pm Moscow time (1 pm GMT) the pipeline was breached and the worker killed, Interfax reports. A huge wave flooded the street and found its way underground.
"As the flood broke, there were two trains going along the lines. By this time all the trapped passengers have been evacuated," says the tube's press service.
Первые фото с подтопленного #метро в #Москва люди идут пешком до станции #пятницаpic.twitter.com/AI2NJ9V56d

— Андрей Андреев (@Odji55) March 21, 2014
Julia, an eyewitness, told LifeNews there was no panic in the stalled train.
"The train stopped between stations, water began to accumulate… We were asked to remain calm. The water level reached the tracks. Nobody panicked and we waited quietly," she said.
Huge crowds of people could be seen in amateur videos leaving the affected stations. Police are evacuating those trapped and regulating the movement of the traffic on the nearby streets.
— Андрей З (@z_andrej) March 21, 2014
Additional buses were dispatched to facilitate passenger traffic between the four affected stations, to operate until the train movement is resumed.
The Moscow metro authorities have said in a statement that the accident occurred due to a problem with construction work.
"The main water pipeline [in the region] was damaged during construction works, as a result the tracks from the outdoor stations Izmaylovskaya to Pervomayskaya were flooded," a spokesman for the Moscow metro said.
The water pipeline has been stopped up and emergency workers have begun pumping out the water, according to regional authorities.
Машинист говорит, пойдем до измайловской pic.twitter.com/4mPlMavl5T

— Андрей З (@z_andrej) March 21, 2014
The Moscow metro has been under the spotlight in recent years due to frequent problems paralyzing train movement underground. On January 23 a pile which was hammered during a construction near the metro station "Avtozavodskaya" broke through the metro tunnel and paralyzed traffic on the Zamoskvoretskaya line. In another accident, at least 76 people were injured on June 5 at downtown Moscow's Okhotny Ryad station when a technical failure in a power line inside a tunnel caused a fire.