Tens of thousands hit streets in Russia ahead of crucial Crimea vote
Thousands have gathered in Moscow for a rally 'In Support of Crimea and Against Fascism' on the eve of the independence referendum in the Ukrainian autonomous republic. A rival peace rally attracted as many supporters.
A crowd of demonstrators, led by the public movement Essence of Time (Sut' Vremeni), marched Saturday through downtown Moscow to show their solidarity with Crimeans, the majority of whom are ethnic Russians. Many were waving red flags and Russian tricolors and holding placards with slogans such as "Crimea, we are with you!", "Russia doesn't ditch its people" and "Ukraine and Russia are together against Fascism."
Essence of Time members - all dressed in same red jackets and black hats with the movement's logos - were followed by activists of other political parties and groups and ordinary Muscovites who believe Russia should support its compatriots living in the autonomous republic on the Black Sea.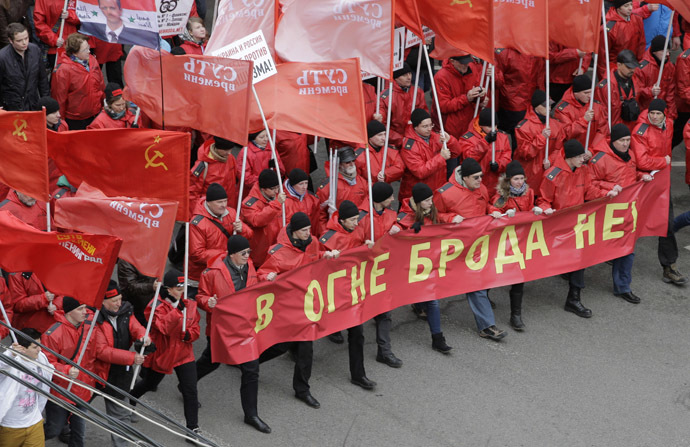 The protesters then gathered for a rally on Revolution Square near the Kremlin, where the leader of Essene of Time, Sergey Kurginyan, delivered an emotional speech, vowing to rebuke Nazi supporters in Russia.
According to the political activist, that "there were many Russians among radical protesters in Ukraine" who share ideas of Nazi collaborator and the leader of Ukrainian Nationalist party Stepan Bandera. "Local followers of Bandera supporters, who licked the boots of Russophobes this winter, were training in Kiev to later succeed in Moscow," he said.
"There will be no Maidan in Moscow!" Kurginyan stated to the approval of demonstrators.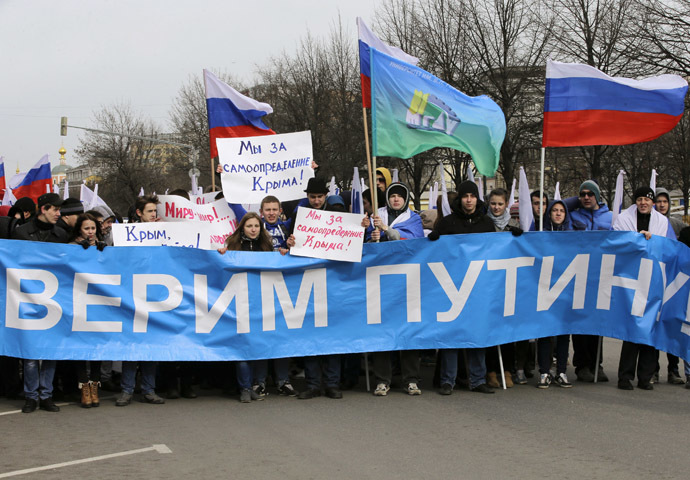 Demonstrations and other events in support of Crimea were also held Saturday in other cities across Russia.
In Tambov, southeastern Russia, about 5,000 people took to the streets to "protest against political extremism and the destruction of centuries-long unity of Slavic people and support the right of the autonomous republic of Crimea to self-determination," the head of the town Aleksey Kondratiyev said, as cited by Itar-Tass.
Addressing the demonstrators, Kondratiyev said that a bunch of people who organized coup in Kiev are now attempting to rewrite history and "turn heroes into traitors, and liberators into invaders."
"Russia should help its brothers in a difficult situation," he said.
Around 10,000 people took part in a rally in Cheboksary, the capital of the Chuvash Republic, while a demonstration in Tula, 19 km south of Moscow, gathered 8,000 activists, according to officials. Residents of Samara, Magadan, the town of Korsakov in Sakhalin, and St Petersburg also organized similar events.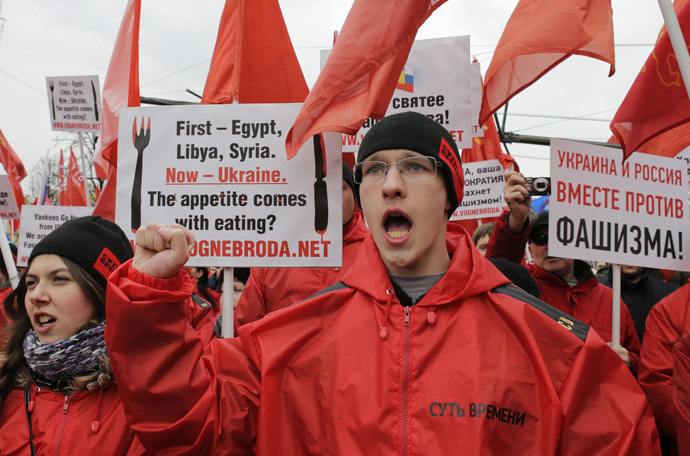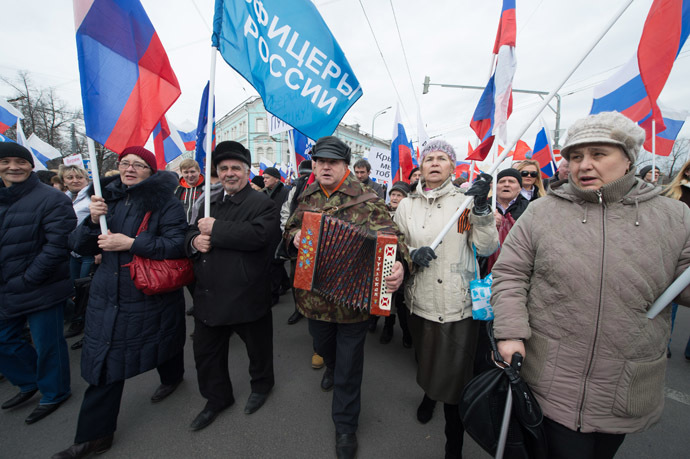 'No to war'
Meanwhile, thousands of opposition activists staged their own mass rally – "March for Peace" – against Crimea's reunion with Russia and Moscow's alleged military role in the east Ukrainian crisis.
The rival rally in Moscow heard slogans "No to war" and "For Russia and Ukraine without Putin!" and saw numerous Ukrainian and Russian flags. Some adopted the chants and slogans of Ukraine's revolt that ousted President Viktor Yanukovych last month.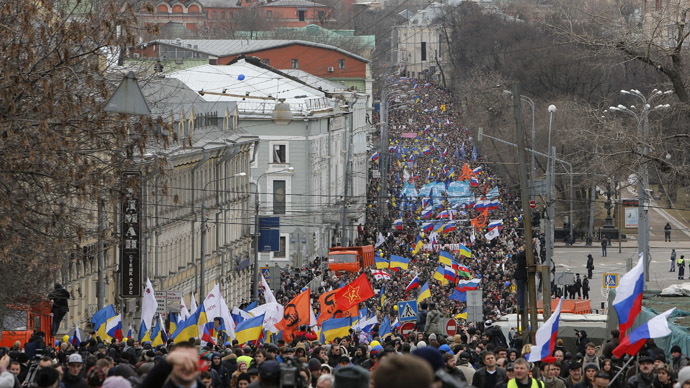 After the march, the protesters gathered on Prospekt Sakharova, the scene of massive anti-government rallies that took place two years ago.
"We are patriots," Ilya Yashin, one of the leaders of the Solidarity movement, said from the stage. "Ukraine is a brotherly nation and we will not allow them (the government) to march us into a fratricidal war."
However, several protesters were waving the black and red banners of the controversial Ukrainian Insurgent Army (UPA), which fought both Soviet and Nazi forces during World War II. Those were later branded as provocateurs by the rally organizers.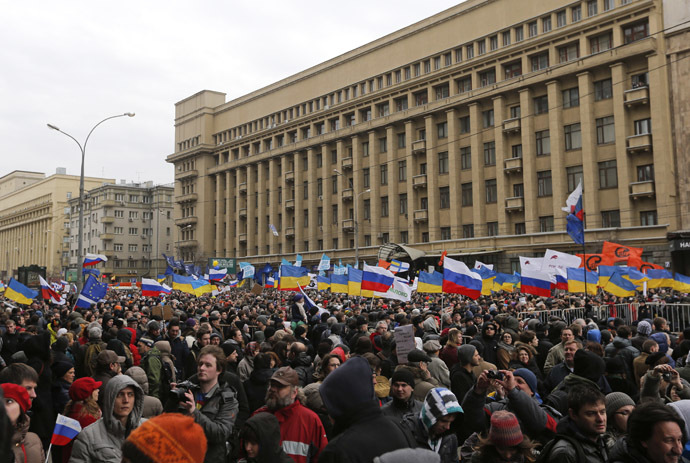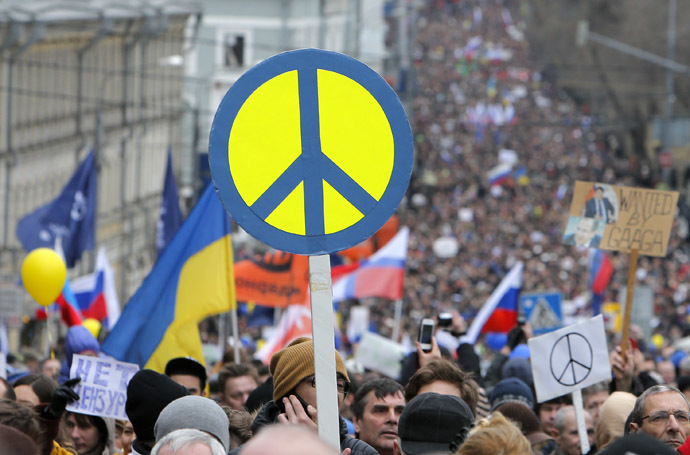 You can share this story on social media: