Moscow rally: LIVE UPDATES
Published time: 12 Jun, 2012 08:00
Edited time: 12 Jun, 2012 17:21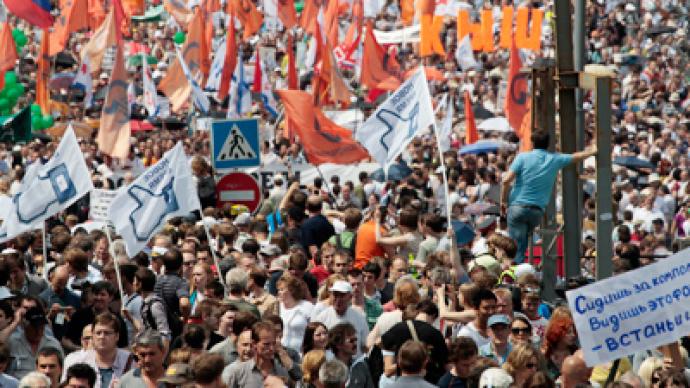 ­13:19 GMT: We are wrapping up our LIVE updates from the rally.
13:15 GMT: Large-scale opposition rally in central Moscow finishes without incident, police officials report.

12:34 GMT: Thunderstorms and heavy showers disperse crowds at Akademika Sakharova Avenue, opposition rally draws to a close.

11:59 GMT: Opposition leaders finish addressing the crowd, and popular Russian rock musicians take to the stage.

11:34 GMT: Some opposition supporters have left the rally, but most still remain on Akademika Sakharova Avenue. Meanwhile, a similar event has started in St Petersburg. 
11:23 GMT: A protester has fainted at the rally and was taken away by the medics stationed on the site.
11:05 GMT: Police press service says they will provide reporters with aerial footage of the rally, to settle the 'how many people are attending' dispute. Opposition leaders earlier reported over 100 000 people are attending the event, while police estimated only 22 000 came to Akademika Sakharova Avenue
10:56 GMT: Sergey Udaltsov proposes another mass rally on October 7th, which will coincide with Vladimir Putin's birthday.

10:38 GMT: Journalists at the rally say some 30 to 40 thousand people have come to Akademika Sakharova Avenue
10:30 GMT: Opposition leaders have started addressing the crowds. First man up on stage is Sergey Udaltsov, leader of the 'Left Front' movement.

10:13 GMT: Most of the protesters have reached Akademika Sakharova Avenue, no reports of violence, violations or arrests.

10:04 GMT: Police update their rally estimates; put total attending at 18 000 people

09:53 GMT: First protesters reach Akademika Sakharova Avenue, where a stage has been set up and a concert is scheduled for later in the day.

09:24 GMT: Many have already commented on the seemingly pleasant atmosphere of the rally: no protesters wearing masks or behaving aggressively have been sighted, and the police are courteous in their dress uniforms

09:18 GMT: Protesters continue to move down the boulevard, still separated according to political views – leftists on the left, right wing on the right. People are calling for a Russia without Putin, and chanting "What solution? Revolution!"

09:15 GMT: Moscow police confirm up to 10 000 people taking part in the rally.

09:00 GMT: The march has officially begun; the rally will make its way down the Boulevard Ring and end the event on Akademika Sakharova Avenue, the site of the first major opposition rally in recent years that took place in December.

08:57 GMT: Police on the scene are directing the protesters, asking left-wing activists to stand on the left side of the Strastnoy Boulevard, and the right wing on the right. So far, this logical approach seems to be working out.

08:50 GMT: So far, the protesters are a motley crew – students, left-wing activists, nationalists, LGBT activists. Estimates on location vary, but most seem to agree around 5 thousand people have arrived so far.

08:33 GMT: Organizers say nearly 20 000 people have already gathered in the city center. Around 50 000 are expected to attend.

08:24 GMT: Organizers of the rally are handing out white ribbons, which have become a sort of a symbol of the opposition movement.

08:20 GMT: Hundreds of police officers are on duty and will be posted along the route of the march.

08:14 GMT: Protesters have an hour to gather and the march itself is scheduled to begin at 1300 Moscow time, or 0900 GMT.

08:01 GMT: People are gathering in Pushkinskaya Square in the heart of Moscow, but heavy showers are forcing them to seek shelter.

08:00 GMT: Russian opposition supporters are holding a demonstration in Moscow. The so-called "March of Millions" is expected to attract thousands to the center of the capital. RT will be providing live updates from the event, and you can watch the live feed here.

Participants attend an anti-government protest in Moscow June 12, 2012 (Reuters/Sergei Karpukhin)
Photo from Twitter user @thebigcity