Moscow longs for heat wave to pass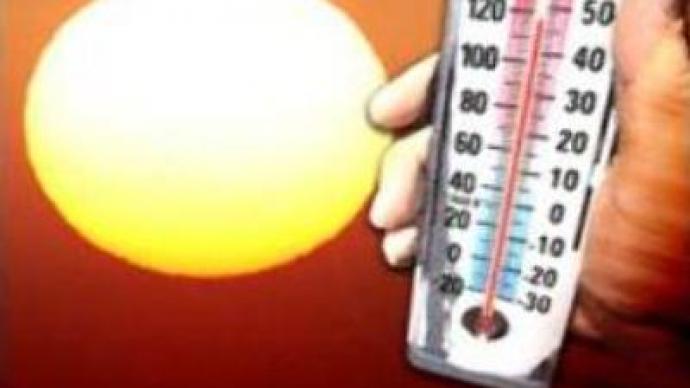 For the past few days Russia's capital has been sweltering under record-high temperatures with thermometers topping 34 degrees Celsius – or 94 Fahrenheit. It's the hottest May since weather records began 120 years ago.
The Russian weather forecast service expects the heat wave to continue for at least two days, after which the temperature is likely to plunge up to 10 degrees, possibly causing hurricanes.Meanwhile, Muscovites are trying to cope with the extreme conditions, boosting the profits of ice cream, juice and soda producers. The people are drawn to any bodies of open water they can find around, like the Moscow River or ponds around and near the city. The capital's numerous fountains have also become major attractions for the public. While those lucky to have air conditioning at home or at their offices tend to stay mostly indoors.To cope with the heat, doctors advise drinking more water to avoid dehydration and staying away from direct sunlight. They also suggest being more practical in terms of dress code.Meanwhile, Moscow's Emergencies Ministry has organised a press-conference to explain what measures are undertaken to provide security during the hot summer ahead.
"There are very dangerous issues we have to deal with during this season, and we do take measures. For example, selling alcoholic drinks in public places is forbidden by law now. Another problem we have to deal with are people drowning in rivers while swimming at late hours. There is a rule which has to be followed: swimming after 2100 is forbidden. Speaking about public beaches, there is a number of things which are very important in providing public security, like first-aid posts, life-guard posts. At this moment we do not have the necessary infrastructure for public beaches. But all these measures need to be undertaken before the situation gets too dangerous,"
said Vladimir Plyasunov from Emergency Ministry in Moscow. Humans are not the only ones suffering from the unusual weather. Zoo animals were caught unprepared by the heat wave, and the staff even had to close several displays, since the zoo charges failed to adapt to the rapid change of the temperature.
You can share this story on social media: