Moscow joins Global Walk against hunger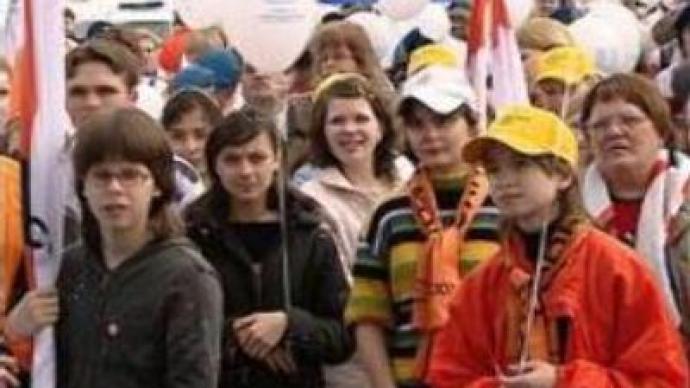 Hundreds of thousands of people are taking part in a global walk to fight child hunger. The UN World Food Programme has organised marches in every time zone.
According to the World Health Organization, hunger is responsible for more deaths than AIDS, malaria and tuberculosis combined and it affects around 850 MLN people every single day.Children are particularly vulnerable. The World Food Programme estimates that 400 MLN are chronically undernourished. Across the globe, a child dies of starvation every five seconds. But the UN is fighting to reverse the trend with events like Walk the World.The marches may only be a short distance, but the UN is hoping that the money raised will go a long way to making child hunger a thing of the past.More than 100 countries are taking part in the fifth annual Walk the World day and organisers expect up to a million people to join marches across every time zone.The money raised will go to the World Food Programme's school feeding initiative, helping children receive free meals every day, and with it – the chance of a proper education.In Moscow, walkers were hoping their efforts would raise awareness about world hunger.But the hard work didn't end with the march. Fundraisers were busy taking donations while their fellow walkers enjoyed a little musical entertainment. And many had spend weeks collecting from family and friends.
"We know that each country is trying to do something to help homeless and hungry children around the world. So we're also trying to contribute. We did some work at school and we told everyone we knew about this walk so that anyone who wanted could make a donation,"
a young participant explained. Organisers hailed the Moscow march as a great success but stressed the need for people to continue to pull together.
"The problem is just too vast. We need an alliance with government, with business, with civil society to all say 'no' to world hunger and we shouldn't accept that there are still 400 MLN children going hungry worldwide,"
said Inge Breur, Director of World Food Programme in Russia. The World Food Programme still have a mountain to climb, but they have committed to halving the number of malnourished people worldwide by 2015.
You can share this story on social media: