Moscow hosts meeting of EU Troika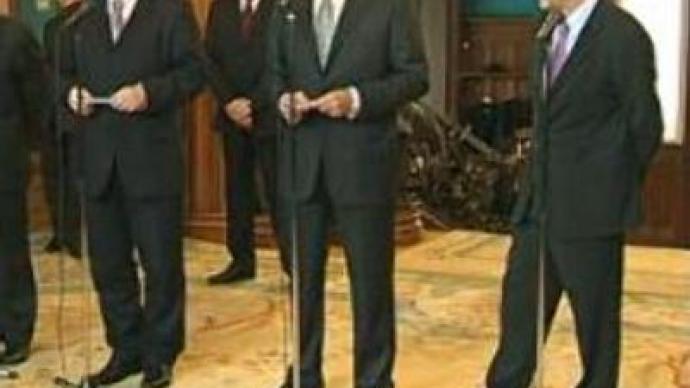 Russian Foreign Minister, Sergey Lavrov, has hosted a regular the European Union Troika held in Moscow. He and his EU counterparts have discussed a range of bilateral and international issues.
Energy security and Polish meat exports have long been a matter of dispute. They have prevented the two sides from negotiating a new cooperation agreement to replace one expiring later this year.
"We hope that negotiations on the new partnership agreement will begin soon,"
reassured Russia's Foreign Minister, Sergey Lavrov.
"But we don't make a tragedy out of this setback. We believe this delay to be artificial and it could be overcome by Russian and Polish veterinary specialists."
During a closed-door lunch, the two sides are said to have discussed Iran's nuclear programme, the Middle East peace process and the Kosovo settlement.
"Some of the issues we've spoken together are urgent, in international sphere,"
said EU foreign policy chief, Havier Solana.
"A lot of people are suffering, and we want to stop that suffering."
Mr Solana has also approved of the way the links between Russia and the European Union are developing.
"In general terms the relationship is very profound,"
he stressed.
"We have to put up-to-date the scheme of these relations, which is based on agreements ten years old. That is why we want to renegotiate the CPA agreement, which is the formal co-operation agreement, and to adjust it to the new realities of today."

During their briefing, the diplomats kept repeating their relationships have "a lot of potential", and in the diplomatic language that means, the ties leave much to be desired. Still, analysts suggested that, while relations deteriorated after disruptions in energy supplies and high-profile killings, there is still a base to build upon.
"Both Russia and EU are committed to each other,"
maintains Richard Sakwa, political analysts.
"Russia is a sovereign state; it's a state which will not accept the sort of conditions as if the EU had got a monopoly on justice and truth. Russia will not be told off like a naughty schoolchild."
The two sides are to continue their discussions during a Russia-EU summit in May.
You can share this story on social media: