Morsi's trial adjourned in Egypt as defendants chant anti-military slogans
A Cairo court has adjourned the trial of ousted President Morsi over refusing his prison uniform and the defendants' chanting "Down with the military rule". Morsi and 14 others face charges of inciting the killing of protesters in clashes.
Judge Ahmed Sabry Youssef ordered the adjournment shortly after a two-hour delay at the start of the hearings. The delay was due to Morsi's defiance of the court, which he said had no authority to try a legitimate Egyptian president. "This trial is illegitimate," he insisted.
The proceedings were expected to resume later on Monday. However, after several hours the court decided to delay the trial much further until January 8, 2014. The extra time is needed for both defense and prosecution to examine the documents related to the case.
Mohamed Morsi was brought to the courthouse on Monday morning from the secret location of his four-month detention. It's his first public appearance since his ouster in a coup on July 3.
Along with 14 senior members of his Muslim Brotherhood, Morsi is accused of inciting the murder of protesters outside the presidential palace in December 2012. If convicted, Morsi could face the death penalty.
Shortly before the beginning of the trial, Egyptian authorities switched the venue for the trial, now to be held east of the capital. A police academy in an eastern Cairo suburb had already been transformed into a courthouse for the trial of another former president, Hosni Mubarak, toppled in a 2011 uprising. He is accused of failing to stop the killing of protesters.
"For the first time in its history Egypt has two former presidents who are on trial at the same time. But whereas the trial of Hosni Mubarak is eagerly anticipated by most Egyptians, when it comes to Morsi's prosecution, Egyptians are divided," RT's Middle East correspondent Paula Slier noted.
"Most people here believe, however, that this is a political trial more than anything else," she added.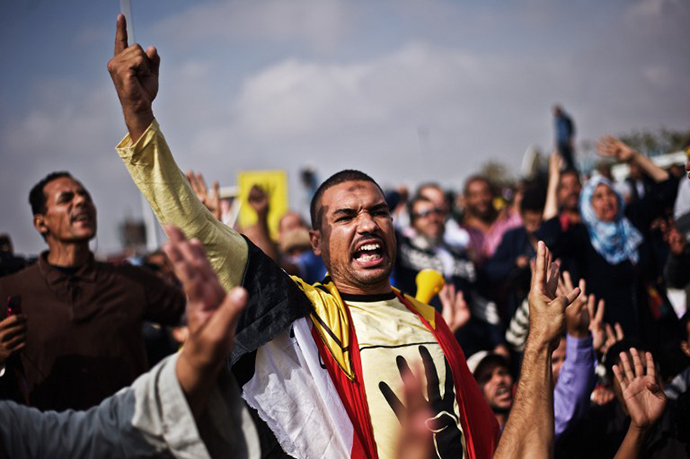 Morsi will represent himself in the trial, the first public figure to do so in the host of trials of politicians since Hosni Mubarak's ouster in 2011. He will question the trial's legitimacy insisting he is still the legal president, Egypt's first freely elected leader.
Unlike Mubarak's trial, the proceedings against Morsi will not be aired live. Rights groups have little faith that the trial of Mohamed Morsi and other Muslim Brotherhood leaders will be fair, saying that the first "test" will be if the judge rules whether Morsi should be brought out of secret detention and moved to a regular prison during the trial. Authorities argue military detention is necessary for security reasons in the country's turmoil.
The country's Interior Minister has ordered the deployment of large numbers of security forces to guard Mohamed Morsi's trial venue. For fear of violence, some private schools told parents to keep their children at home.
"It is coming at a time when there is a general crackdown on the Brotherhood and selective prosecution on the part of the justice system, looking only at Brotherhood members with impunity for security services. And so instead of seeing Morsi's trial as a trial which will bring accountability for some of the crimes that were committed under his time, his trial is ultimately a politicized one," Heba Morayef, of Human Rights Watch, told RT.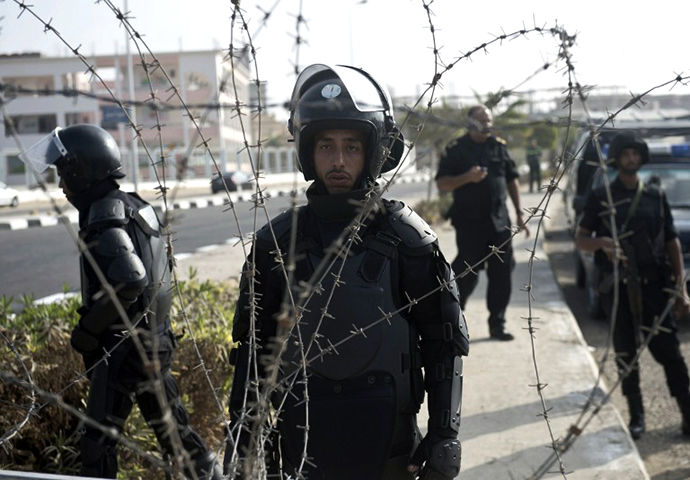 The Muslim Brotherhood has denounced the trial as a farce aimed at political revenge. During four months of detention, in undisclosed military facilities, Morsi wasn't allowed to meet with lawyers and refused to cooperate with his interrogators.  Brotherhood supporters called the detention an outright kidnapping. His only contact with the outside world was rare phone calls and visits with his family.
Egyptian journalist and political analyst, Wael Es-kandar, believes the trial is Morsi's political assassination.
"This is a bit like a deja-vu for Egypt's other president, and another trial in less than three years. What we're seeing is a re-run of a politicized trial. Of course, there are things that President Morsi has done, just like Hosni Mubarak, but I don't think he's on trial for the exact crimes that he's committed. The reason he's put on trial is because of his Muslim Brotherhood ideology and the way he ran the country. At the same time we're seeing a lot of his ministers that were part of it, interior ministers who served under him, who have actually killed protesters. They are not being tried along with Morsi. Therefore, this seems a very, very highly politicized [trial] and the demand of the people who want to see a lot of the Muslim Brotherhood behind bars."
Many say there's a feeling that the security apparatus is shaping court decisions in the country, which after the July coup has seen one of its worst bouts of violence in decades. 
"The military is entrenching its own influence and interests again and again. The problem is now we need to sit down and agree on a specific route for transitional justice, either we try everyone on meaningful charges or we take the route of South Africa that is truth and reconciliation," Amr Abdel-Rahman, from the Egyptian Initiative for Personal Rights, told RT.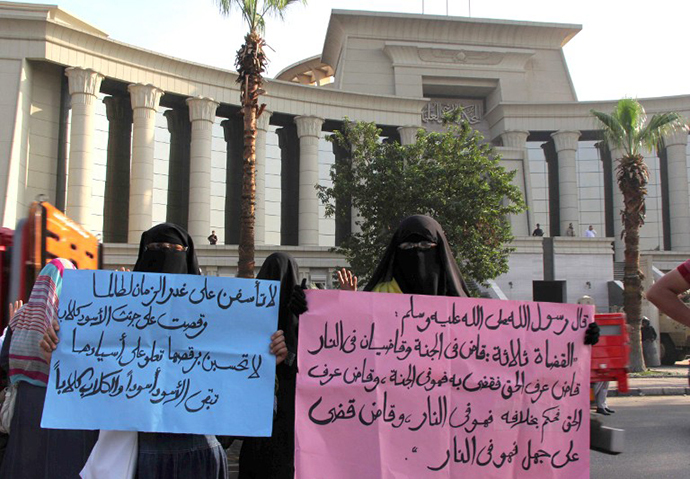 The trial comes amid a highly unstable moment when the polarized nation is divided over the deepening schism between Morsi's Islamist supporters and Egypt's security establishment, as well as moderate Muslims, secularists, Christians and women.
Reporting from Cairo, RT's correspondent Bel Trew met Ramy Essam, nicknamed 'the Singer of the Revolution'. The young man was badly tortured by the military after gaining popularity with his pro-democracy songs. In spite of fighting to bring down both Hosni Mubarak and Mohamed Morsi, Ramy said he is no longer hopeful about Egypt's future. 
"The revolutionaries are now in the worst scenario we have ever been in since 2011. Morsi should be tried but it's comic that the Mubarak trial should be held up at every turn, while the Morsi trial is moving along so fast. What shocks me is that the authorities never seem to have the will to push through the court cases of remnants of the former regime," Essam told RT.
In 2011 and 2013, people came to Tahrir Square to demand bread, freedom and social justice. Since the military ousted President Morsi, hundreds have been killed and thousands arrested, leading many to fear that those freedoms and justice will never become a reality.
You can share this story on social media: