Egypt court sentences 529 Muslim Brotherhood supporters to death
The Upper Egypt court has issued a death penalty to 529 supporters of the Muslim Brotherhood on charges of murder and inciting violence. Only 153 of those sentenced are currently in custody, the rest were tried in absentia.
The sentence will have to be ratified by Egypt's Grand Mufti before it can be carried out.
"The court has decided to sentence to death 529 defendants and 16 were acquitted," lawyer Ahmed al-Sharif told Reuters.
The Morsi supporters are charged with the murder of a deputy commander of the Matay district police station during the riots that followed the dispersal of the mass Rabaa sit-in last August. Other charges include violence, inciting murder, storming a police station, attacking persons and damaging public and private property. At least 632 people were killed during the dispersal, including eight police officers, according to government figures.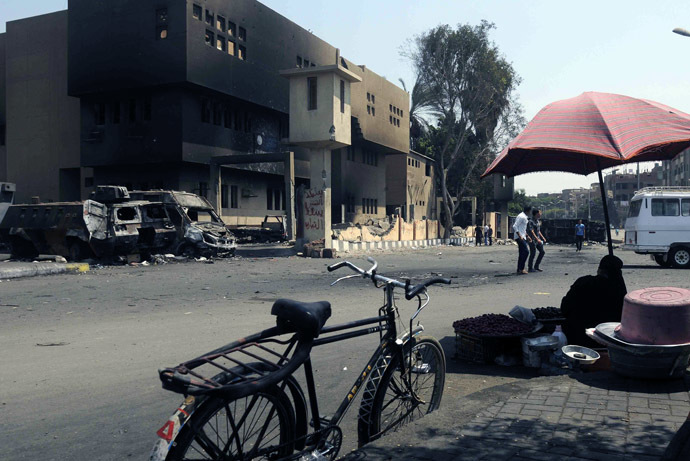 The 529 people who have been issued the death sentence are part of a larger group of 1,200 Muslim Brotherhood members who are currently on trial. Another 700 defendants will be in court on Tuesday accused of attacking people and property in southern Egypt last August.
Bel Trew, a Cairo-based journalist, told RT that this is one of the "largest death sentences in Egyptian history."
These stats say Egypt sentenced 709 ppl to death btwn 1981 - 2000- but it just sentenced 529 people in 1 verdict http://t.co/7Lzb6ffI7r

— Bel Trew - بل ترو (@Beltrew) March 24, 2014
"The court ruled that these people killed a police officer and attempted to kill two others," Bel Trew told RT, adding that a sentence of this magnitude might provoke a wave of angry protests from Brotherhood supporters.
Said Sadek, political sociologist, said the sentence is an attempt from the state to reassert its authority to stop Egypt becoming a "second Libya."
Ahmed Nagib, a political activist, told RT that none of the defendants received proper legal representation and the verdict makes a mockery of justice in Egypt.
"There is absolutely zero evidence and the lawyers for the defense were not even given a second to defend the accused. There is due legal process, and not just that but only 147 of those who were accused were present. The rest were tried in absentia. This whole process is shambolic, and a fiasco and another blow to the impartiality of the judiciary in Egypt. It put Egypt in an embarrassing position internationally and definitely it's another blow to human rights and democracy," he said.
Since Muslim Brotherhood President Mohammed Morsi was ousted in a coup on July 3 last year, Egypt's interim government has been cracking down on the group and its members. In a September court ruling, Egyptian authorities banned "all activities" by the Brotherhood and froze the organization's assets.
You can share this story on social media: