Moody's considers downgrading US over debt ceiling row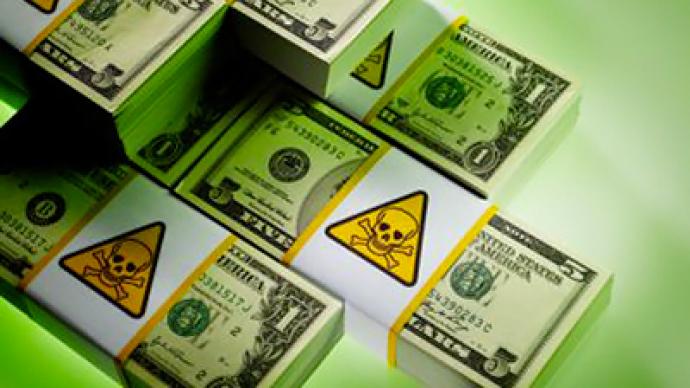 The rating agency Moody's says it may review America's AAA debt rating to reflect the country's possible technical default. The scenario may eventuate if congress fails to approve raising the statutory debt limit in time.
The likelihood of downgrading the rating is low, Moody's said, but if it comes to pass it would be the first time in almost a century.On the back of the news, the dollar is falling against other currencies on Thursday. Meanwhile gold has risen to record price of $1,590 per ounce. Republicans and Democrats are holding tough cross-party talks over raising the $14.3 trillion debt limit before an August 2 deadline, which would allow the US to borrow more money and cover its budget deficit.The parties are arguing over how to tackle the deficit. The Republicans reject Barack Obama's suggestion to increase taxes for rich people and for oil and gas companies. They are demanding further spending cuts instead.The rating agency's cautious move is badly reasoned, long overdue and actually unimportant at the same time, believes James Rogers, author, investor and the co-founder of the Quantum Fund."Moody's is trying to save itself. Why didn't they downgrade Portugal three or five years ago? Or Greece? They're just getting down to reality. It's like the sub-prime mortgages – they didn't downgrade anybody until it was already over! Many people that were going bankrupt [while still] rated as AAA," he told RT.Rogers also suggests not paying any attention to the news, because nobody actually expects the US not to raise its debt limit, and once it does, it will not resolve the problems which should have long made all rating agencies downgrade America's rating."I am ignoring it for the most part, because I know that they're just sitting yattering [sic] away to each other and none of us is going to benefit in the end. Public should be very worried because America's situation is dire, and our debt is going up, and our declining standard of living is going to get worse. They've got to take an ax – no, they have to take a chainsaw – to government spending and do something about it. But they are not going to do that!" he said.
The US is borrowing about 44 cents of every dollar that the American government spends says Max Wolff, senior analyst at GreenCrest Capital. The analyst observes that it has become "a political norm" for each US political party in power to raise the ceiling of total sovereign debt. Still, Wolff questions America's efforts to bring down the amount of debt."We are seeing signs of debate. Certainly, many people are trying to make a career on being at least perceived by our public as those who are going to decrease the total debt and the deficit," Wolff told RT. "We have not seen any deal be struck to know that they are actually doing it at the present time. And in the previous years we have seen major agreements to extend huge tax cuts, which of course decreased the revenue of the federal government."
According to Scott Carter, CEO of gold investment company Goldline, raising a debt ceiling should be considered a secondary topic when we speak of remedying the economic situation in the United States.  "Whether the debt is raised one trillion or two trillion dollars, right now the US government is running deficit spending to the tune of approximately 1.5 trillion a year and that is projected out for the next five-ten years," he said. "The fact that the debt ceiling needs to be raised is secondary. The bottom line is that our GDP growth and our deficit spending, how much we spend on government dollars versus tax revenue, has to come into line. That is the only time in which the debt ceiling will not need to be raised." "Get the spending in line and then the debt ceiling is a secondary topic," Carter added.
You can share this story on social media: