Scores injured as protesters try to sabotage historic gay pride march in Montenegro (PHOTOS)
Published time: 20 Oct, 2013 19:30
Edited time: 20 Oct, 2013 19:52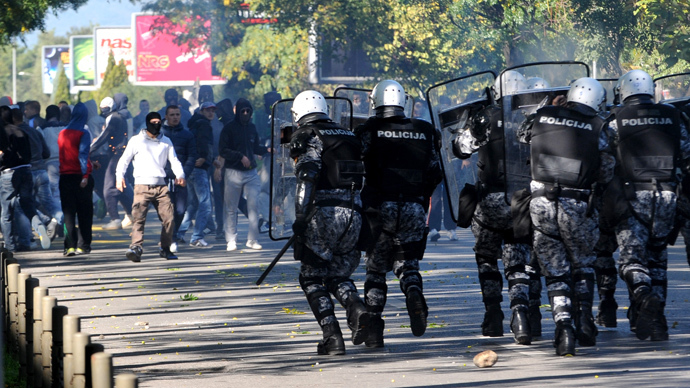 More than 60 people have been injured as opponents of gay rights hurled stones and firebombs at the participants of the first ever gay pride march in Montenegrin capital Podgorica.
Over 2,000 police cordoned off streets of the Balkan city in anticipation of violence. A previous parade in the coastal town of Budva in July ended with an invasion by counter-demonstrators chanting "Kill the gays!"

Around 150 participants congregated for the march, mostly young people bearing placards which read "Kiss the gays!" and "Everyone has their own rights."

The group then walked through eerily empty streets as a police helicopter trailed them from above.

As the official part of the march came to an end, bands of young masked men - presumed to be right-wingers and religious activists - appeared and began hurling rocks and Molotov cocktails at police and demonstrators. Officers responded by launching canisters of tear gas.

Police say that 20 officers and 40 "hooligans" were among the injured. More than a dozen counter-demonstrators were taken into custody.

The gay rights activists, who had been told to avoid wearing clothes with conspicuous symbols, were loaded into armed trucks and ushered to a safe spot outside Podgorica.

Despite the outbreak of violence, rally organizer Danijel Kalezic hailed the fact that the march took place at all as a success.

"As of today, gay people are no longer invisible in Montenegro. From today, these streets are ours as well," he said during a short speech.

Kalezic also effusively thanked the police for providing cover.

Montenegro, which has a population of 680,000 people, is hoping to convince the European Union that it respects minority rights, after applying to join the bloc. The head of the EU's mission to the country was on hand to observe the parade, alongside the Dutch ambassador. The country separated from neighboring Serbia in 2006.

As well as providing heavy police protection, the government has passed a raft of legislation strengthening punishments for discrimination.

But everyday attitudes lag far behind.

A local survey last year revealed that more than 70 percent of Montenegrins consider homosexuality an illness, and four in five do not want to see any public displays from the gay rights movement.

As well as the traditional patriarchal culture of the region, the Orthodox Church has also been a major opponent to the normalization of homosexuality.

Ahead of the march, leading Orthodox Bishop Amfilohije Radovic sent a letter to the organizers, branding them "shameless" and stating that homosexuality is unnatural because it does not produce offspring.

"A tree that is not fruitful is cut down and thrown into the fire," wrote the clergyman.