Mogadishu far from cease-fire, dozens flee Somalia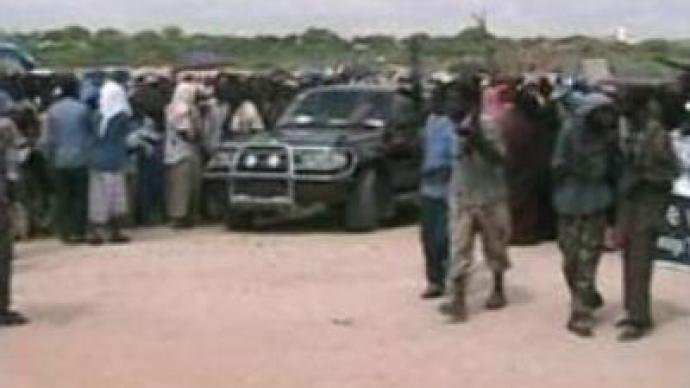 Somalia's prime minister says Government forces have rolled into Mogadishu unopposed and are preparing to take control of the capital. Meanwhile fighting is going on, causing lots of refugees flee the country.
Negotiations with clan leaders about the hand-over of the city are underway. Islamic Court fighters abandoned Mogadishu early on Thursday after suffering heavy defeats in more than a week of fighting. The leader of the Islamic Courts, Sheik Sharif Ahmed, has said the withdrawal is tactical, undertaken to avoid a bloodbath in the capital. He also accuses the Ethiopian military of genocide against the Somali population. Witnesses say many Islamists have swapped allegiance, removing their uniforms and reporting to clan elders for orders. Gunfire has been heard on the streets, and there havis a lot of looting.Looters got on the streets as soon the Islamic Court militias fled, stripping houses of everything that could be carried. Gunfire has also been heard, and Islamists are accused of distributing weapons before they left.Rival militias have taken to the streets in a bid to get control, and the main task facing Government troops will be to stop Mogasishu from descending into clan warfare.Continued violence has forced people to flee the country. Many put their lives at risk when they undertake the hazardous journey to Yemen. Astrid van Genderen of the UN Refugee Agency has told Russia Today about four boats with Somali refugees heading towards Yemen. Two boats reached safely the Yemeni coast, and the people got off on the dry land, but the two others were spotted by the Yemeni guards. The guards tried to stop them in order to check for smugglers. This caused panic in the boats, and, as a result, both capsized, killing at least 17 people. 140 others are reported missing.Aid Agencies say they're 'extremely concerned' about civilians caught up in the fighting, and fear the situation in Somalia may get worse before it gets better. Meanwhile, in New York, the United Nations has failed for a second time to agree on a statement calling on all foreign forces to withdraw from Somalia."
The situation in Somalia is a complex one. It's a mistake to look at the issue and the problem as a result of Ethiopian troops in the country. There are a number of issues that have to be addressed by the parties in Somalia, the transitional government and the Union of Islamic Courts,"
Alejandro Wolff, Acting US Ambassador to the UN, said. Outgoing Secretary General Kofi Annan, for his part, urged both sides in the conflict to resume negotiations.
You can share this story on social media: