Mladic's son: father's memory problems mean no chance of fair trial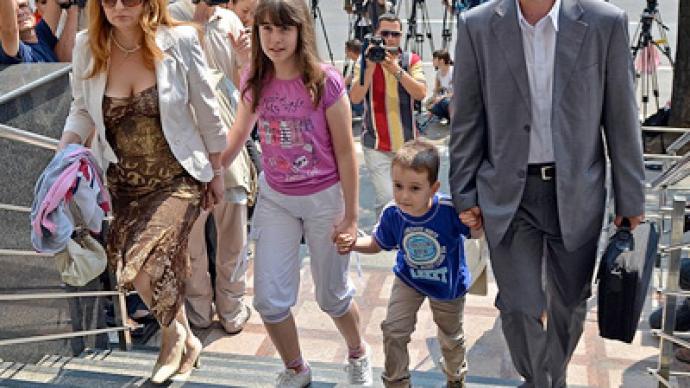 Radko Mladic's medical condition is too grave for him to have a chance of defending himself in court, his son Darko told RT in an interview. The alleged war criminal has suffered several strokes and is no longer of sound mind, according to his son.
His health is appalling. As his son…perhaps you noticed that in the first two days we found it hard to say anything definite about his condition. I would say that at the moment he's still alive only thanks to his strong will and determination. You can understand that if you talk to him. I've read a diagnosis made by the prison doctors. It was quite a fair conclusion: he's suffering from a psycho-organic syndrome which is a consequence of a stroke. He has also survived several latent heart attacks. Doctors say he has other disorders. He told us that he had suffered a stroke in August 2008. It means that he hadn't received any medical treatment in the three subsequent years. I think that even an ordinary physician can understand what condition he is in and what risks exist to his health.Sometimes you can talk to him quite normally, then in the middle of a phrase he will suddenly start talking about something totally different, remembering events that happened 20 or 40 years ago. It's clear that he feels bad, and it would be absolutely clear to any professional doctor (irrespective of political views) who examined him.Regretfully, I should state that the government bodies that are in charge of the issue and are accusing us of intentionally dragging the process are conscientiously worsening his state.Darko says he was happy to know his father is still alive, when news of his arrest first broke, although it was mixed feelings.I haven't seen him for a very long time. I cannot give a precise answer to this question for reasons linked with the ongoing investigation. But I can say for sure that it was for a very long time: for more than five or six years.That was a very hard moment mixed with a feeling of joy that he's alive. At such moments we don't look into details. I don't know how to describe it. At such moments you cannot… You see a bad photograph that impresses you but at the same time you are infinitely happy to find a person alive after so many years. It's very hard to describe.It's only the eyes on that photo that seemed to be his. All his other features seemed to be distorted. But the expression of his eyes and the look reminded me of him most of all. I assume that this is why the media hasn't shown his photos, especially in the very beginning. They simply did not dare to demonstrate how bad he looks.Mladic's son says the overwhelming majority of people he knows support his father. The government prosecution of the former general is just another step in the 20-year-long retreat by the country.While communicating with people, I feel this assessment every day. Before everything happened, whenever I talked to ordinary people, not necessarily the Serbs, but other nationalities I met privately and during my work, I found that 99 per cent of them supported me fully. To a degree, people understand what's going on here.We in Serbia don't have to be told about those who are involved in financial and political schemes aimed at writing a false history of the past 20 years. On the other hand, it's impossible to consider one separate episode, even if it's significant, that has been made public.This is part of a process that has been dragging on here for the past 20 years. Those in power will tell you that this is according to law, because such a law was passed. But in fact, first Yugoslavia and then Serbia has been deviating from their stances for the past 20 years. At first, we refused to defend Yugoslavia and retreated from Slovenia and Croatia. What's happening now is yet another retreat, a lost position in the struggle for freedom. It's yet another retreat in which we surrendered something very important to our enemies for which we are going to get nothing worthy in return.One cannot expect the winner to give anything to the loser. Those who say differently will soon see that new conditions will be put up for Serbia. At one time, they said that was the only precondition standing in Serbia's way to prosperity and a brighter and better future. But I think that even today the latest arrests have shown that it was nothing more than pure propaganda. The process will continue with a pre-assigned speed until we don't put up resistance.Darko believes his father will not be able to stand the trial in his present condition.Everybody who looks at him [Ratko Mladic] honestly… I don't even think that a psychiatric examination is necessary to assess his physical condition. We've already been told that he's incapable of reading the books he asked for. He's reading just a little. How will he be able to read thousands of pages of his case and comment on them? How will he be able to make a statement on any subject if he's unable to connect five or ten sentences without losing his train of thought? That's simply impossible!We've found it hard to communicate with him all these days. How will a person in his state follow the trial, consult with his lawyers, issue instructions or understand what's going on?! He remembers the events of the past well, but he has problems with recent memory. What happened yesterday, today…At each of our meetings he asked me to write down one and the same thing again and again. He forgets what he told me yesterday, what he needs, and the things, etc.Radko Mladic is by no way the only person to be blamed for the hardships of the war in the Balkans or even the tragedy in Srebrenica, his son says.I wish he could simply express his opinion on what happened and explain everything after all these years. It's a difficult question. It's not just a matter of putting all the blame on one person. This is the smallest problem. Was that one man or another? Was it Ratko Mladic who issued an order or somebody else?I think that it's clear to everybody that such an event in the end of such a war couldn't be organized by a group of people. I think that if we consider Srebrenica in the context of all the events that happened before and after, it will be clear to any serious analyst what game it is.The more so that we already have a statement from the Muslim side that the US president was demanding from Alia Izetbegovich [the first President of Bosnia and Herzegovina] that such an incident should be created. And what if he had succeeded in doing that, what if someone else had done that exactly for the purpose of making Ratko Mladic, Serbia and the Serbian Republic face the consequences?At the moment there is an organized resistance to anyone, who would want to investigate and report the events of the war without bias, Darko believes.These are open questions that have already been asked by people who want to consider the situation honestly from all points of view. But there's an organized effort which prevents people from putting questions in such a way at least here in Serbia. I don't know how it is in the rest of the world. This fact speaks for itself. Those who are dealing with the matter are being forced to keep their mouths shut. It means that something is wrong here.If you claim that the truth is on your side, then why are you bothered by a publication or a program broadcast by Radio Belgrade which was later forbidden? What 21st century is it if a program devoted to intellectual discussions is banned? You may know what I am talking about. So the question of what really happened in Srebrenica will remain open for a long time. I am afraid that Ratko Mladic's health won't allow him to withstand all that. But I would like specialists to say that, not me, because the opposite side is already making manipulative statements that it's just our strategy. Let's wait and see. I assume…no, I don't even assume, but I hope that when he faces trial there, he will get more honest medical treatment. If nothing else.As for now, the whole aftermath of the split of Yugoslavia has nothing to do with justice, Darko says. His father was one of the pawns in the geopolitical game, which benefited foreigners at the expense of all peoples of the former Yugoslavia.Do we need any comments here? Isn't the state of the system obvious? Are we talking about justice or anything else? In fact, is what has been going on in the Balkans, in the territory of the former Yugoslavia, a question of law and justice or geopolitics, force or someone's foreign interests? I think that all the peoples of the former Yugoslavia have become victims. We, to a well-known degree, allowed ourselves to fight each other for the third time in the 20th century for the sake of foreign interests. Those events didn't bring good to anyone.We can say that with confidence that it wasn't we who started the war. At least I know that my father was sent to Knin in 1991 as an officer of the Yugoslav People's Army to defend Yugoslavia. He didn't create that crisis. The crisis had emerged long before. What we see is the finale that has been unfolding in front of our eyes for so long. All this has got nothing to do with law or justice. This law and this tribunal may be fig leaves which are supposed to cover the nudity behind those events.
You can share this story on social media: