Mladic allowed meeting with family as pension fund unfrozen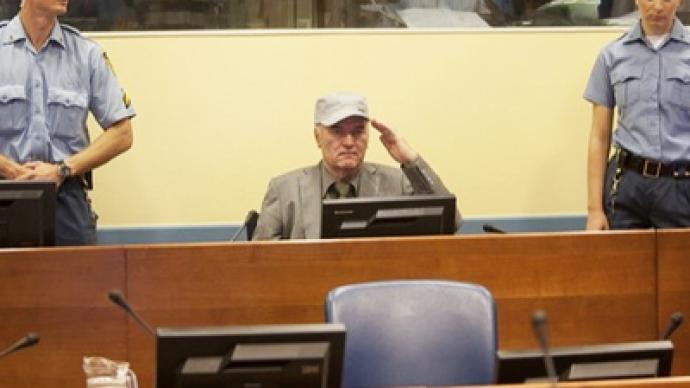 The family of former Bosnian Serb general Ratko Mladic plans to visit him at the detention center in The Hague later this week, Mladic's lawyer said. Meanwhile Serbia has agreed to unfreeze Malic's pension account upon his request.
Mladic's family was allowed access to the general's pension account, which had been frozen in 2005 when Mladic was hiding from The International Criminal Tribunal for the former Yugoslavia [ICTY]. By freezing his account, Serbian authorities expected to leave Mladic without means of subsistence.However, the pension of 800 euros per month kept coming to Mladic's account. Upon his arrest, Ratko Mladic asked that the account be unfrozen, and as approval was granted, Mladic's son Darko cashed 49,000 euros on his father's behalf. 69-year-old Mladic will continue to receive his pension in the future.The information about the Mladic family's visit came amidst the speculations about the general's alleged ultimatum to the court.Earlier on Monday, Serbian newspaper Blic published a report quoting Mladic as threatening the tribunal with launching a hunger strike. The Blic report claimed Mladic had threatened to launch a hunger strike if he was not allowed to meet with his family and was not provided with adequate medical help. He also demanded that the court allow him to meet his lawyer. According to Blic, Mladic regretted not having committed suicide prior to his arrest.However, the report was dismissed by Mladic's lawyer.Commenting on the Serbian newspaper's report, UN tribunal spokeswoman Nerma Jelacic told The Associated Press that Mladic is allowed under the court's rules to choose his own legal team, have visits from his family and receive all necessary medical care.Ratko Mladic was arrested on May 26 in a Serbian village after 16 years on the run from war crimes charges. On May 31 he was extradited to The Hague as his appeal against a transfer was rejected. Ratko Mladic is facing various charges, including war atrocities, genocide and crimes against humanity. The general called these accusations "obnoxious", but has not yet entered a plea. The former Bosnian Serb army commander is accused of masterminding numerous mass killings during the 1992-95 Bosnian war, including the Srebrenica Massacre, which allegedly claimed more than 8,000 lives.