Miss World organizers vow to foil radical Islamist protests at Bali final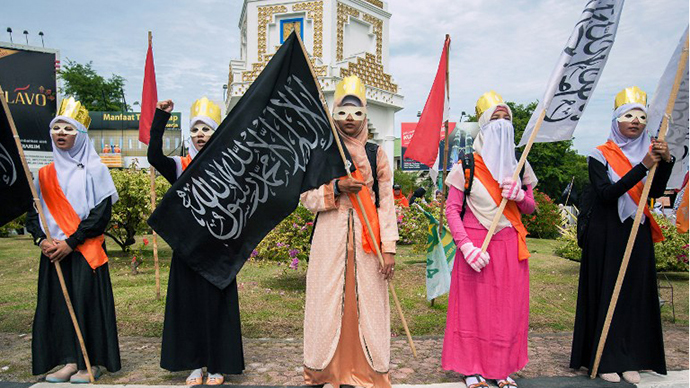 Security concerns are growing on the Hindu-majority holiday island of Bali, where the Miss World final is due to take place Saturday, despite hardline protests from Muslim groups and warnings that extremists could attack the pageant they deem un-Islamic.
Indonesia is officially secular, but protests by Islamic radicals in the world's most populous Muslim-majority country have pushed the authorities to move the event to Bali, instead of near the capital, Jakarta.

But things haven't calmed down, and the radicals are determined to stage another series of protests on Saturday and break through toughened security at the beauty pageant. 
"We are going to protest against it, because it is unacceptable," AFP quoted the head of the East Java branch of the Islamic Defenders Front, Haidar Al-Hamid, as saying. 
Up to 90 percent of Indonesia's population of 240 million people identify themselves as Muslim, with the vast majority practicing a moderate form of Islam. Thousands have joined protests across the Indonesian archipelago, from Jakarta to cities on Sumatra Island and Borneo, slamming Miss World as "pornography" and a "whore contest," burning effigies of the organizers.
Even after a pledge by the British-based organizers to cancel the main highlight of the contest, the bikini show, and replace the bikinis with Balinese sarongs, the protesters weren't satisfied, urging the authorities to change the event's venue. The organizers initially planned to hold the final and qualifying rounds in and around the capital, Jakarta, where radicals have a lot of influence. 
Earlier this month, hundreds of Islamic Defenders Front members made an attempt to cross to Bali from East Java. Female police officers, backed by hundreds of elite police troops, stopped the group from getting onto a ferry, however. 
The US, UK and Australian embassies have also warned that radicals could attack the pageant, recalling the deadly Jihadist bombings in Bali that killed over 200 people from 21 nations in 2002. 
"Extremist groups may be planning to disrupt the Miss World pageant... potentially through violent means," the US embassy in Jakarta said. 
Last year, US singer Lady Gaga had to cancel her concert in Jakarta after a series of similar protests. Calling her "devil's messenger" who wears only a "bra and panties," the Islamic Defenders Front threatened to stop Gaga from getting off the plane and burn down the venue where the "Poker Face" diva was due to have performed. 
Saturday's final in Nusa Dua, southern Bali, will see the beauty queens sashaying in Indonesian-designed dresses before a winner is crowned. A total of 129 contestants will show off their talents in the finale of the three-week event, which will be broadcast to over 180 countries. 
Organizers of Saturday's final are counting on up to 700 security officers, reinforced by traditional Balinese security personnel, known as "pecalang," to ensure the safety of participants and guests.