Migrant workers face jobs axe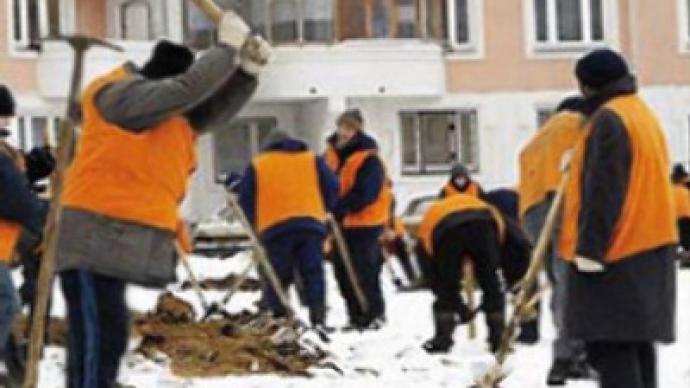 Russia may halve the labour quotas for CIS migrant workers next year as pressure mounts to protect jobs for Russian citizens.
Prime Minister Vladimir Putin has decreed that the 2009 quota for migrant workers can be cut – or raised – by 50 percent.
That means the quota of 4 million could be slashed to as little as 2 million – or raised to 6 million, depending on the demand for labour from employers across Russia.
Previously, the quota included an option to recruit 30 per cent more workers from CIS countries.
In previous years, quotas have risen to meet demand for cheap labour in Russia's growing economy. But with the economic slowdown, companies are now laying off thousands of migrant workers in manual jobs such as construction.
The number of CIS migrant workers in the country has traditionally been very difficult to estimate, as many are employed illegally.
Putin backs lower quotas
Now Putin is backing reduced quotas, saying he was in favour of the cut during his televised question-and-answer session with the public on December 4.
Nationalist groups such as the Movement Against Illegal Migration and patriotic youth groups such as United Russia's Young Guard movement have called for jobs to be reserved for Russian citizens and for migrant workers to be expelled.
Now these groups are urging the Ministry of Health and Social Development and regional authorities to reduce the quotas.
Moscow officials from Mayor Yury Luzhkov on down have said the quota of 350,000 migrant workers in the capital will be halved next year to protect jobs for Muscovites.
Aleksey Aleksandrov, the head of the city's central district, urged law enforcement agencies to go further, and track down unemployed migrants sleeping in cellars and attics.
Some experts say the rise in unemployment among migrant workers could lead to a rise in crime.
Construction workers face unemployment
According to economist Mikhail Delyagin, about 12 million migrants from the CIS now work in Russia – most illegally.
About 6.5 million people from Central Asia and the Caucasus have been employed in construction, but that figure will shrink to 1.5 million during the economic downturn, he says.
While another 1 million workers will find employment in other sectors, about 4 million people will become unemployed, Delyagin says.
"They may face the threat of death from hunger and cold, as southerners are more sensitive to cold winters. Meanwhile, city residents will face a sharp increase in criminality", Deutsche Welle reports, referring to Delyagin.
Tabloid newspaper Komsomolskaya Pravda has warned of a possible wave of crime associated with the rise in joblessness among migrants.
In one case, a worker from Dagestan said he and his colleagues had been kicked off a building site without being paid. Workers had to spend a week sleeping at Kazansky Station and had no way of earning money to pay for tickets home, he said.
You can share this story on social media: