Microsoft on fire: Gunmen firebomb company's Greece HQ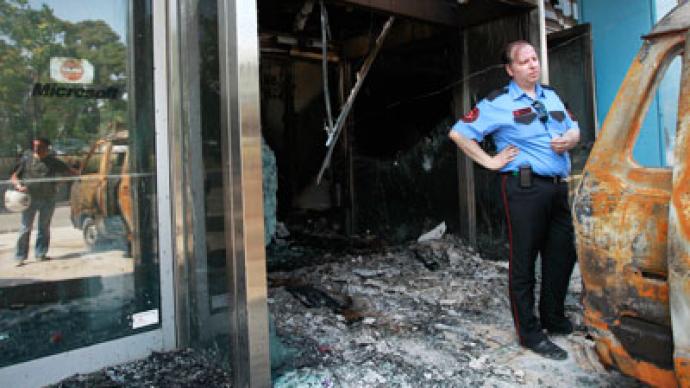 A van packed with gas canisters has exploded at the main entrance of Microsoft's headquarters in Athens, damaging it. The attackers drove the vehicle through the front door and set off an incendiary device.
The van was reportedly driven by hooded assailants. After smashing the front door they got out of the car and triggered the device set inside the van. The guards providing security were forced out at gunpoint by the attackers before the vehicle collided with the building. As a result of the incident, the main entrance was burnt down.The police's initial findings suggested that three people had been inside the van. Microsoft's representatives said they had received no calls with threats or warnings before the attack happened.
"They entered the office in a van in an effort to burn the whole place down," Ernst-Jan Stigter, general manager of Microsoft's Greek unit, told journalists on Wednesday. "We're grateful there were no injuries and all our crew are safe." The company, which has been in Greece for 20 years and employs 125 people, has occupied the building since 2004. The damage is estimated at about €60,000 ($75,000).No one has claimed responsibility for the attack yet but anti-terrorist units investigating the incident suspect left-wing militants to be behind it.
You can share this story on social media: