Big leap in micro-science: Web-enabled microscope to fight viruses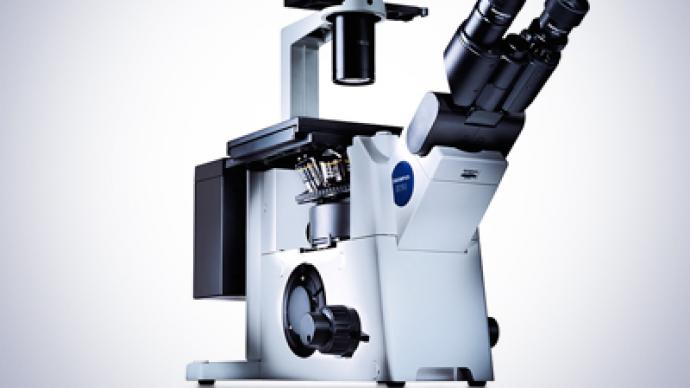 The minute world of microbiology has just got a whole lot bigger thanks to the work of Russian scientists who have developed a system allowing colleagues throughout the world to access their powerful microscope via the web.
The device is called a scanning probe microscope, and it gives crystal-clear views of the tiniest bacteria. Although such microscopes have existed for some time in many countries, the team in Moscow has zoomed in on a novel potential. The new tool enables scientists to see the tiny structure of a new virus within minutes, as it sweeps across the planet.With their invention, it is not only possible to talk about the microscope online, but also to control it, using special software. "Our program can be connected to any microscope in any part of the world. And it's just one click away," says Olga Sinitsina from the Center for Advanced Technologies.The benefits of being able to scan images via the internet are becoming ever clearer.It is vital for scientists to know all about the viral particles, claims Igor Yaminsky, physics professor at Moscow State University. "Only if we gain all the knowledge about the viral particles, will it be possible for us to understand and to develop new ways which will defeat viral diseases," explains Yaminsky. Doctors can share information about newly discovered viruses or bacteria as they are scanned. And it is also helping to instruct students the world over.As Olga Sinitsina explains, "it takes only one microscope, and each student can work at their computer and at the same time observe all the processes going on in real-time mode."Certainly, it is not all seen through a rose tinted lens.Making something this precise requires top quality components and laser accurate engineering, coming out at over 30,000 US dollars a piece.The team's efforts to keep the costs of their microscope down and get it sold are regularly frustrated by Russia's bloated bureaucracy."Customs is so difficult, and so long, we spent so much time to pass either our product to another country or receive the spare parts for our devices," says Igor Yaminsky.Still, hopes are that once labs are able to start cooperating in how they see the world of the very small, it could bring big changes to medicine and science.The team hopes to build over 300 microscopes every year by 2015. They want them accurate, affordable and interconnected via the internet. So the team and their customers will be watching this space very closely indeed.
You can share this story on social media: