Michael Schumacher undergoes second brain operation after skiing accident
Published time: 29 Dec, 2013 22:13
Edited time: 30 Dec, 2013 17:44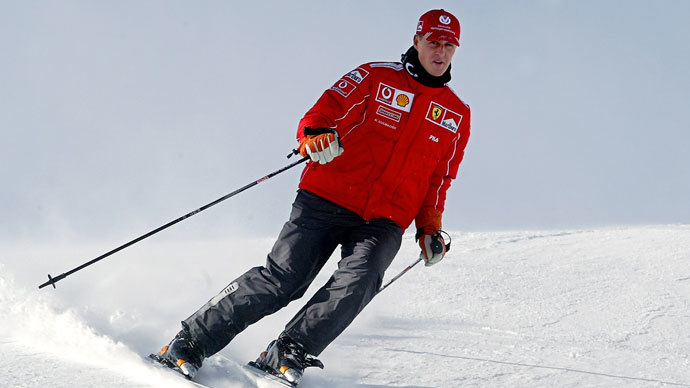 Former Formula 1 world champion Michael Schumacher has undergone a second brain operation overnight after suffering a severe head injury during a skiing accident in the French Alps, German and French media have reported.
According to the German daily Bild and French newspaper Le Dauphiné Libéré, Schumacher was again operated on at the Grenoble University Hospital Center.
The seven-time Formula One world champion remains in a critical condition after the accident at the French ski resort of Meribel.
It has been reported Professor Gerard Saillant, who organized the driver's medical care after he broke his leg during the 1999 British Grand Prix at Silverstone, has arrived at the hospital.
The 44-year-old German "was suffering a serious brain trauma with coma on his arrival, which required an immediate neurosurgical operation," the hospital said.
He underwent immediate brain surgery on a hematoma within his skull, which was successfully operated on. However, they also found abnormalities and he remains in a critical condition, Grenoble University Hospital Center said.
Doctors are unwilling to produce informed speculation as to the likely result of the surgery. However, they did state that had he not been wearing a helmet, "he would not have got to here".

Schumacher fell and hit his head on a rock on Sunday while skiing off-piste at the exclusive Meribel resort.
The director of the resort, Christophe Gernigon-Lecomte, said that Schumacher had been wearing a helmet and was "conscious but a little agitated" immediately after the accident.
However, he later fell into a coma, signaling that the trauma was worse than initially thought.
The legendary racing driver, who has won a record number of Formula One world titles and race, retired from sport in 2012.