Slain cartel leader's body stolen in Mexico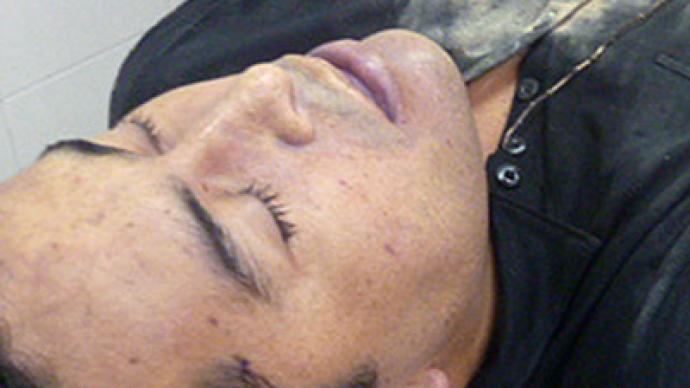 The body of Heriberto Lazcano, leader of Los Zetas, Mexico's largest and most dangerous drug cartel, has been stolen from a funeral home by a group of armed men. Lazcano was killed on Sunday in a shootout with Mexican Marines.
Lazcano's body and that of another man had been taken to a funeral home in the town of Sabinas, in the northern state of Coahuila, after the shootout.The Mexican Navy, which conducted the operation against the Zetas leader, said fingerprints and photographs had been used to identify the body as Lazcano's before it was stolen.Coahuila State Prosecutor Homero Ramos told reporters that gunmen wearing face masks had entered the parlor with heavily armed bodyguards, overpowering the staff."They took the bodies, stuck them in a hearse, and made the owner drive it off," Ramos said.Local police believe a recent surge in mass killings is due to a split within the Zetas cartel.Lazcano was thought to be the leader of one faction, while the other is supposedly led by Miguel Angel Trevino Morales.Lazcano, a Mexican Army Special Forces deserter, was suspected of hundreds of killings, including the June 2004 slaying of Francisco Ortiz Franco, a top editor of a Tijuana newspaper that reported on drug trafficking.Over the last six years, more than 50,000 people are believed to have died in violence blamed on organized crime in Mexico.Los Zetas formed in 1999, when commandos of the Mexican Army's elite forces deserted their ranks and decided to work as the armed wing of the Gulf Cartel, a powerful drug trafficking organization. In February 2010, Los Zetas broke away from their former employer and formed their own criminal organization. They are now considered to be the most technologically advanced and powerful cartel in Mexico.The name of the gang most likely originated from the name of its first commander, Arturo Guzman Decena, a high-ranking officer in the Federal Judicial Police whose radio code was Z1, or Zeta 1 in Spanish.Los Zetas have carried out multiple massacres and attacks on both civilians and rival cartels, and are known for their preference for brutality over bribery in their dealings. They are known for violent and bloody attacks, such as the 2010 and 2011 San Fernando massacres, in which 251 people died, and the 2011 Durango massacre, which claimed the lives of 249 civilians.
You can share this story on social media: