Mexican president seeks distance from US in proposed change to country's name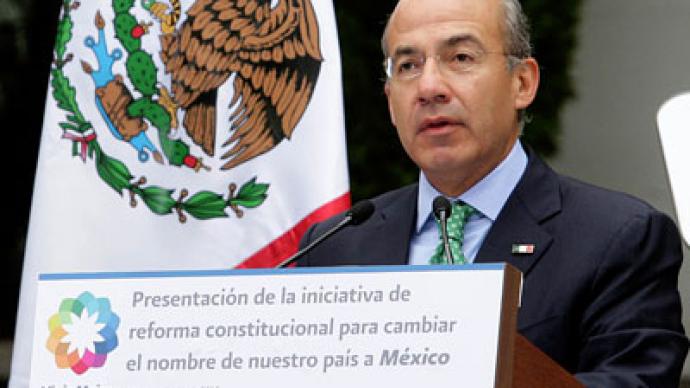 Known for nearly 200 years as the United Mexican States, the republic may soon change its name. The country's president, whose term in office is ending, has proposed the adoption of 'Mexico' to better distinguish it from the US.
The name 'United Mexican States' was originally adopted in the 19th in a gesture marking the country's recent independence from Spain, and also to mirror a similar sovereign nation to its north: The United States. Though the country is known informally as Mexico, with the original name only used on official documents and money, "Mexico doesn't need a name that emulates another country and that no one uses on a daily basis," Mexican President Felipe Calderon said during a press conference.Though American sports, TV, culture, and products are all popular in Mexico, Calderon explained that the country's official name should represent its people."It's time for Mexicans to return to the beauty and simplicity of the name of our country, Mexico," he said. "A name that we chant, that we sing, that makes us happy, that we identify with, that fills us with pride.""Mexico's name is Mexico," he said. The proposal requires approval from both the country's Congress and a majority of Mexico's 31 state legislatures. Calderon is leaving office on December 1, leading critics to deride his announcement as a symbolic gesture. Users on Twitter mocked Calderon's proposal, referring to Mexico as 'Fraud-land,' – a reference to the widespread corruption allegations leveled against the Mexican president. Calderon previously tried to change the country's name when he was a congressman in 2003. The proposal he advanced failed, and never came up for a vote.Calderon's six-year term has been defined by a militarized police offensive against Mexico's drug cartels. At least 47,500 people have died in cartel-related violence during his term in office, AP reported.