Like a rock: Church of meteorite set up by worshippers of famous space debris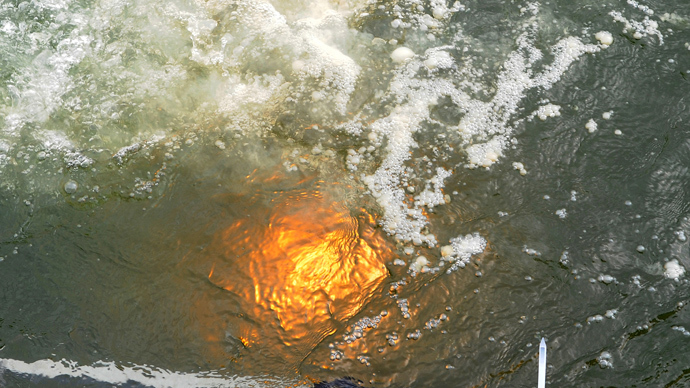 A 'Church of the Meteorite' has been set up in the Russian city of Chelyabinsk. Its members worship the space rock which streaked across the sky and rocked the region in February, injuring over 1,600 people, and causing damage and furor on the ground.
While scientists have long confirmed that the space rock that hit Russia's Urals Mountains on February 15 is "an ordinary chondrite" (the most common type of meteorite that falls to Earth), the founder of the Church of the Chelyabinsk Meteorite believes it contains "a set of moral and legal norms that will help people live at a new stage of spiritual knowledge development."

Paranormalist Andrey Breyvichko says the meteorite, estimated at 10,000 metric tons, is so powerful it could actually trigger the Apocalypse.

The biggest of the seven major chunks that the giant rock fragmented into was discovered in the local Lake Chebarkul, forming an ice-hole 8 meters in diameter. An operation to recover it from the lake began on September 10, due to be completed by September 25. The chunk is covered by about 2.5 meters of sediments and is estimated to be 30 to 100cm long, weighing about 600kg.

Breyvichko's kindred souls regard the data stored inside the meteorite as the "testimonies", urging local authorities to give them the rock, which they want to be placed in a temple to be later built in Chelyabinsk.

The founder of the cult of the meteorite church is strongly against the operation to bring the chunk out of the lake, claiming that as long as the meteorite stays at the bottom of the lake, it is "in a positive environment".

"Contact with outsiders, who treat it as an average stone, can violate the information contained in it. We already see the perturbation of the noosphere from constant attempts to lift the meteorite in fomenting international instability around Syria," Breyvichko told the First Regional Channel.

There are currently about 50 believers in the Church of the Chelyabinsk Meteorite. These days they are busy holding rites on the shores of the lake, trying to protect the meteorite by building "protective barriers" around it, LifeNews.ru reported.

"I think it won't hurt Chelyabinsk to become a truly holy city, home to a great temple that will be the object of pilgrimage for millions of people from across the world," Breyvichko stated.

When the meteorite exploded in February numerous videos of the meteorite explosion appeared online, scoring millions of views across the world. A number of local opportunists began selling alleged pieces of the space rock in a bid to make a quick fortune.

You can share this story on social media: