EU taking Putin's letter on gas transit 'seriously' – Merkel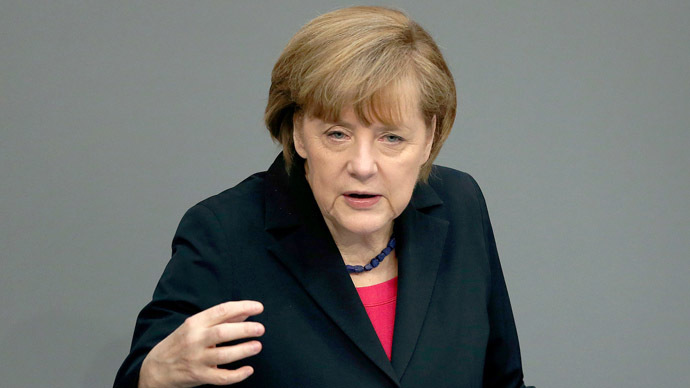 The EU is taking seriously President Vladimir Putin's letter to 18 European countries, in which he warned that Ukraine's debt crisis could affect gas transit from Russia, German Chancellor Angela Merkel said.
"There are many reasons to seriously take into account this message […] and for Europe to deliver a joint European response," Itar-Tass reported Merkel as saying.

She said the issue would be discussed in a meeting between European Union foreign ministers Monday.
Speaking in Athens on Friday, Merkel stressed that the price on natural gas should be negotiated. She also said that EU Energy Commissioner Gunther Oettinger and representatives of European states should talk to Russia's biggest gas producer, Gazprom.
"When we take all these steps, we can be sure that we have reached a joined response for the countries that face this problem because they are getting gas from Gazprom," Merkel said, adding European states "would like to be good clients but we would also like to be sure Russian gas supplies are not interrupted."
Merkel said that she also discussed this stance with Greek Prime Minister Antonis Samaras. "There are no disagreements on this," she said.
On Thursday, Putin wrote a letter to the leaders of 18 European countries, major consumers of Russian gas such as Germany, France, Italy, Greece, Turkey, Bulgaria, Moldova, Poland and Romania, warning that Ukraine's debt crisis reached a "critical" level and could threaten transit to Europe.
He told Russia's European partners that Gazprom would be forced to ask Ukraine for advance payments.
"In other words, we'll be supplying exactly the volume of gas that Ukraine pays for a month in advance," he wrote.
After the coup in Kiev, Gazprom ended all discounts and now charges $485 per 1,000 cubic meters of gas. This is a price Ukraine says it will not be able to pay because it threatens Ukraine's ability to continue normal gas transit operations to Europe.
Putin also said, however, that introducing advance payments would be an extreme measure.
"We understand that this increases the risks of unsanctioned retrieval of gas flowing through the territory of Ukraine to European consumers," he said. "And it could also hinder accumulation of gas supplies in Ukraine necessary to provide for consumption during the autumn-winter period."
On Friday, Putin said that still Russia would fully honor its obligations to supply natural gas to European partners.
"Russia is acting very exactly, very considerately and respectfully towards our partners. We will certainly guarantee in full the honoring of all our obligations to our European consumers. We are not the problem, the problem is ensuring transit via Ukraine," he said.
You can share this story on social media: