Sarkozy: Visiting hate and terror websites will be punished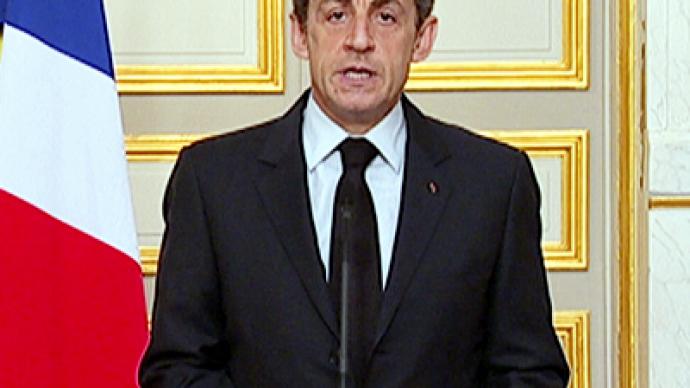 French President Nicolas Sarkozy has spoken out strongly against extremism, but urged his countrymen not to stigmatize Muslims, after a 32-hour siege that resulted in the death of a radical Islamist gunman who confessed to killing seven people.
Sarkozy has proposed a raft of new anti-terrorist measures.Speaking in a press conference straight after the end of the siege in Toulouse, the French president said anyone regularly visiting websites "justifying terrorism" or "preaching hatred and violence" would be prosecuted.Sarkozy also called for punishments to those who travel to radical Islamic camps, even if they commit no crimes on French soil.It is suspected that the Mohamed Merah, the gunman who numbered three Jewish children among his victims, visited Afghanistan and Pakistan on several occasions, fighting alongside the Taliban. Merah claimed links with Al-Qaeda during the siege.The French president also called for an investigation whether the French prison system has become a "breeding ground" for "ideological indoctrination" and "forced recruitment" into terrorist cells.Merah had been arrested on more than 10 occasions, and had several stints in confinement.Sarkozy also emphasized that the vast majority of Muslims "have nothing to do with these crazy terrorists," and urged unity, saying "the French republic is always the strongest."Regarding the death of Merah, Sarkozy said that the authorities "did everything in their power to capture him alive," and that they will now investigate whether he had any accomplices helping him carry out the audacious shootings in recent weeks.After persistently struggling in the polls in his bid for re-election later this year, Nicolas Sarkozy's leadership throughout the shootings and siege has boosted his electoral rating, and he is now the first-place candidate with 30 per cent of the vote.
The Toulouse murders and the operation of the alleged killer might bring additional political scores to Nicolas Sarkozy ahead of the future presidential elections, writer Diana Johnstone told RT. "He [Sarkozy] has completely dominated the television screens for a couple of days as a result of this and shoved the other candidates into the shadows at the time when it was supposed to be the beginning of the campaign," she said. "So as a matter of fact, Sarkozy just by being present everywhere has already profited from this."
You can share this story on social media: