Giant "Mega-Float" comes to rescue at Fukushima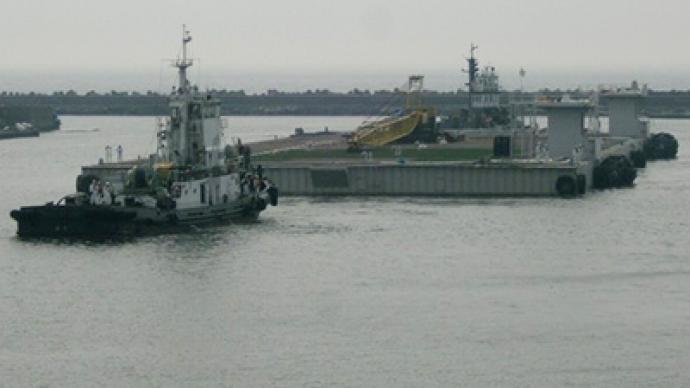 A floating artificial island, or "Mega-Float", has arrived at the troubled Fukushima Daiichi nuclear power plant on Saturday to store the contaminated water accumulated there.
The "Mega-Float" is necessary to remove the water to reduce the risk to workers who continue to struggle to restore the plant's cooling system for the reactors, which was crippled by the March 11 earthquake and tsunami.According to the plant's operator Tokyo Electric Power Co. (TEPCO), the 136-meter-long, 46-meter-wide mega-float can store around 10,000 tons of water. It was originally used in the city of Shizuoka as a park for sea fishing, online newspaper Japan Today reports.On Friday the CEO of the company-operator of the crippled Fukushima-1 nuclear power plant, Masataka Shimizu, announced his resignation after reporting the biggest financial losses in company history, a US$12.3 billion net loss.Meanwhile, it is reported that the level of the released radioactive substances in the sea from the "Fukushima-1" reactor number 3 is about a hundred times higher than the acceptable norm. It was revealed the tainted water leaked from reactor 3 turbine building. The pit did not prevent water containing radioactive cesium, 620,000 times higher than the government-set safety limit, from leaking into the sea. After the leakage was found on May, 10, specialists from TEPCO reported to the authorities on the extent of contamination.During the last few weeks specialists managed to reduce the leakage due to the steel barrier set at the water intake. But this system was not effective enough. The United Nations has launched a broad study of the accident at the Japanese nuclear plant, UN Secretary-General Ban Ki-moon announced during a video conference on Friday."To advance this agenda, I will convene a high-level meeting on September 22 on nuclear safety and security," Ban Ki-moon said. The report will touch the variety of areas such as environment, health, food security, and "the nexus between nuclear safety and nuclear security."The emergency regime was introduced at Fukushima-1 after the cooling system damaged by earthquake and tsunami failed. Then several explosions occurred at nuclear energy units of the plant. In the ensuing weeks, more than 80,000 people have been resettled from the 20-kilometer exclusion zone around the plant.
You can share this story on social media: