Russian-Finnish relations more vigorous than ever - Medvedev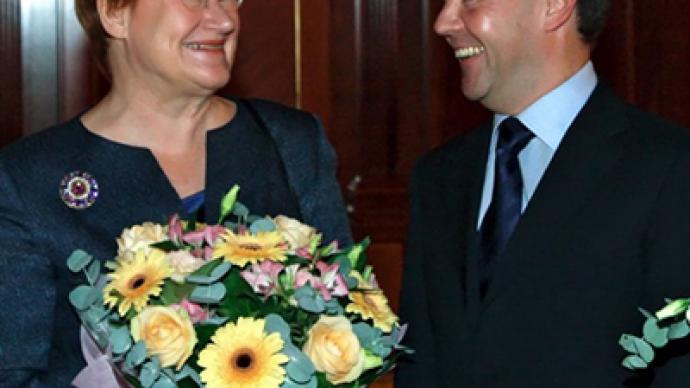 Russian President Medvedev has held talks with his Finnish counterpart Tarja Halonen at the Kremlin.
The leaders discussed innovation and modernization projects as well as visa-free travel."Today we were talking about modernization, about development of the innovation sector," Medvedev said following the meeting. "At the end of May there was the first Russia-EU innovations forum in the city of Lappeenranta."He added that the second forum is scheduled for 2011. Tarja Halonen said that Russia and Finland might soon sign a joint declaration on cooperation over the modernization of the Russian economy. The document will give details of the countries' joint efforts toward the goal.Halonen said that Finland is interested in taking part in Medvedev's modernization plans, particularly in relation to Skolkovo innovation center.The sides have also discussed trade and economic cooperation. "Bilateral trade has risen by 20 per cent," the Russian president said. "Russia still holds first place among Finland's trade partners and our economy has accumulated a considerable amount of direct Finnish investments."Medvedev added that the launch of the new high speed rail link between Saint Petersburg and Helsinki in December will be a considerable achievement in the countries' ties. The presidents also talked about the possibility of visa–free travel to the EU for Russian citizens. Halonen reiterated that Finland supports the idea. She added, though, that before it takes place, all interested parties should take practical steps to make the transition smooth.Medvedev started the talks by noting that relations between the countries have recently become "more vigorous than ever". He said, "This visit, which is a special state visit, acts as a symbol of our good neighborly, mutually beneficial and very promising partnership." The Russian president added that ties between the countries will remain strong.Tarja Halonen said that her visit is also a chance to promote links between officials and businessmen of the two countries.Halonen added that she was ready for even more frequent talks with Medvedev in the near future.
You can share this story on social media: