Medvedev and Obama top media darlings list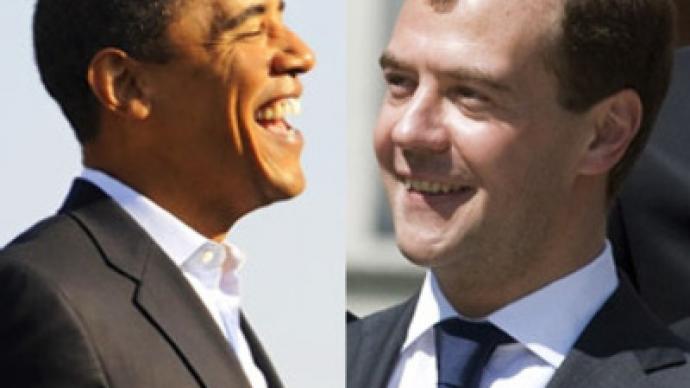 Dmitry Medvedev and Barack Obama were both big hits in the Russian media in 2008. The Russian leader and the incoming US president were the two people most often shown in a positive light in the newspapers and on TV.
The Medialogia company monitors Russia's press and TV. Their end-of-year report reveals who got most media attention in 2008.
Not surprisingly Vladimir Putin and Dmitry Medvedev were the people most frequently mentioned by the media in 2008, followed by Ukrainian leader Viktor Yushchenko.
However, the breakdown into negative and positive shows that Medvedev is liked more than Putin by the media. The Prime Minster is rated third in the list of 'positive persons', losing not only to the President but also to the U.S. President-elect Barack Obama.
As for Yushchenko, as well as taking third spot in the 'most mentioned' list, he comes in at number two in the 'bad guys' top three.
Unsurprisingly, Georgian President Mikhail Saakashvili heads the negative list, largely for his role in the war in South Ossetia. Number three in this category is George W. Bush.
The United States was the country most mentioned in Russia this year, followed by Ukraine and the UK.
Persons most mentioned in the Russian media:
1) Vladimir Putin – 348,494
2) Dmitry Medvedev – 339,032
3) Viktor Yushchenko – 174,035
Persons mentioned in a positive context:
1) Dmitry Medvedev – 7,784
2) Barack Obama – 2,838
3) Vladimir Putin – 2,475
Persons mentioned in a negative context:
1) Mikhail Saakashvili – 7,670
2) Viktor Yushchenko – 5,460
3) George W. Bush – 3,272
Countries most mentioned in the Russian media:
1) USA – 1,047,558
2) Ukraine – 820,162
3) Great Britain – 367,777
You can share this story on social media: