Media's reaction to Russian President's conference is mixed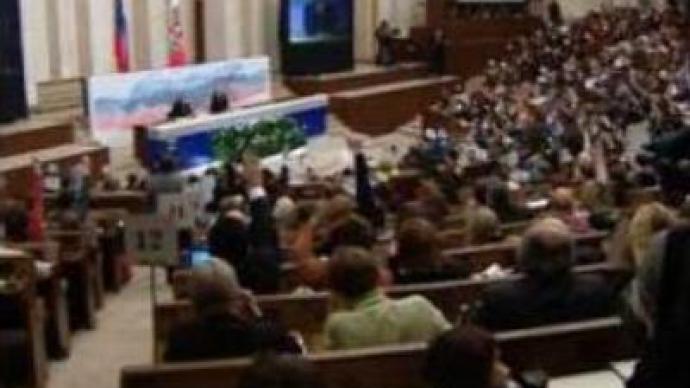 The press conference of the Russian president, who answered 69 questions from Russian and International media, has been seen as a success by some of those who attended, while others said the crucial issues were not actually addressed.
The press conference started as planned, at midday sharp, but lasted much longer than any plans could imply. Finally, its duration turned out to be 3 hours and 32 minutes, which broke all the records of previous conferences of this kind, beating even last year's mark by 10 minutes and 2 questions.
"This is a sort of a parade of Russian journalists. It's being demonstrated how many papers we have, how many TV companies. Mr Putin himself has stated some exorbitant numbers. All those who wanted to come, were able to,"
remarked Vladimir Kondratyev from NTV channel, national TV.In addition, the press conference attracted serious public attention. A poll by the Centre for Public Opinion Studies showed around 30% of Russians watched the annual press conference live. This time, the number of those who prefer a direct dialogue with the President has been almost twice as high. Given the chance, the people in the streets would ask their President first of all about issues related to children such as education, and about the state's programmes planned for Russian regions.However, it seems that many of those who were there and did ask, had other things on their mind, as one of the most popular questions was about the President's successor.
"This conference was livelier than the last one. The President answered with good pace. But it's possible to understand his irritation – even though he joked about it – at the questions about his successor. You can't ask the same question five times in two hours!"
stressed Anton Vernitsky , First channel, national TV.Like the reaction from the President towards the questions asked by the media, the reaction from the media to the answers given by the President was also mixed. Some did not get a chance to ask their question and those who did were not always completely happy with the answer.Nevertheless, many journalists were satisfied with the press-conference.
"I'm pleased with the conference. It's something useful for all journalists. I'm pleased I could ask my question on President Putin's upcoming visit to the Persian Gulf region although he didn't give many details,"
said Amro Abdel-Hamid, the Chief of Moscow Bureau of Al-Jazeera.
You can share this story on social media: