Labor rallies: May Day celebrations around the world (LIVE UPDATES)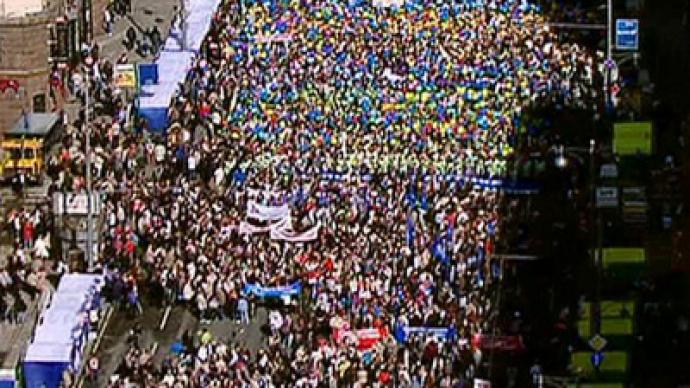 20:38 GMT: Police in Oakland, CA, have fired tear-gas and flash-grenades at Mayday demonstrators as several hundred people blocked traffic near Oakland City Hall.
15:35 GMT: Supporters of the Occupy Wall Street movement march through New York City. 12:51 GMT: Thousands of people marched through the South Korean capital Seoul, demanding the complete revision of the country's labour laws. 11:57 GMT: Thousands of workers including cab drivers, transport workers and other labor unions marched through the streets of Dhaka, the capital of Bangladesh, to mark May Day and demand wage increases and more rights for workers.11:50 GMT: Tens of thousands took to the streets in Moldova in protest against working conditions in the country and demanding increase in wages and pensions and new jobs.11:45 GMT: More than 2,000 Greeks marked the May Day holiday with massive strikes and rallies against tough austerity in return for IMF and EU loans. 11:22 GMT: Serbia joins May Day celebrations with festivities and anti-government trade union protests.11:18 GMT: Tens of thousands have shown up Istanbul's Taksim Square to celebrate May 1st.11:10 GMT: France's National Front leader Marine Le Pen has told a mass rally in Paris she would be backing neither of the candidates in Sunday's presidential election run-off vote.11:02 GMT: No major violations in Russia, however massive the rallies were09:50GMT:Several thousand anti-government protesters marched through downtown Taipei, Taiwan, demanding higher wages, lower school tuition fees and better conditions for foreign workers.09:41GMT::More than 3,000 workers staged a rally in Thailand's capital Bangkok to mark May Day, demanding more pay and better working conditions.09:38 GMT: Thousands of workers marked May Day in Indonesia by taking to the main street of Jakarta, demanding higher wages and that May Day be made a public holiday. 08:12 GMT: Meanwhile in Ukraine, fellow communists have started their event as well.08:11 GMT:Russian Communist rally has kicked off in Moscow. Police say around 3,500 people are participating.07:49 GMT:Almost 220,000 residents in Russia's Far East took part in May Day celebrations, the Interior Ministry said.07:45 GMT:Communist activists are gathering for a rally in central Moscow.07:33 GMT: St. Petersburg police report seizing several pepper spray canisters and knives from a group of young people ahead of a rally.07:03 GMT: May Day events are starting in the Ukrainian capital Kiev. The first one to kick off was a small rally by an opposition rural leftist party. Later Ukrainian communists started their event, which gathered more than 5,000 participants.06:55 GMT: The march has ended in Tverskaya Square. Slogans of the pro-government event focused on social justice and development.06:43 GMT: Police estimate the head count of the trade union rally was at least 20,000 higher than the organizers expected.06:13 GMT: Medvedev and Putin have arrived at Manege Square to take part in the rally. The event has kicked off.05:57 GMT: A patrol helicopter circling over the crowds also provides live footage for Russian news television channels.05:27 GMT: A column of trade union activists is forming on Tverskaya Street near the city government building. Strict security measures are being taken on the site, journalists report.05:20 GMT: Moscow police say they have some 8,500 officers keeping order on Moscow's streets during the mass events.05:18 GMT: The march is to be held just a day before the inauguration ceremony of President-elect Putin.05:17 GMT: Several opposition groups first wanted to hold a protest rally on May Day, but eventually decided not to. Instead they will focus on gathering more people for a demonstration scheduled for May 6, the so-called "March of the millions".05:16 GMT: Nationalist movements are to hold an event called "civic march" in the city's west.05:15 GMT: The Liberal Democrats are planning a rally at Pushkin Square, with 2,000 activists expected.05:14 GMT: The Communist Party pledged to gather some 5,000 people to march across central Moscow from Kaluzhskaya Square to Theater Square.05:12 GMT: President Medvedev and Prime Minister Putin are both planning to participate in the march.05:11 GMT: The biggest march is organized by various Russian trade unions and the ruling United Russia party. They plan to take about a hundred thousand supporters along Moscow's Tverskaya Street.05:11 GMT: All in all some 20 separate events have been announced ahead of the holiday. RT is giving live updates on how the labor rallies unfold.05:10 GMT: Russia is among many countries throughout the world celebrating the International Labor's Day on May 1. Political parties are calling on their activists to rallies. In the capital alone an estimated 120,000 people are expected to show up.
You can share this story on social media: