Horrors of war: Mass grave discovered in Damascus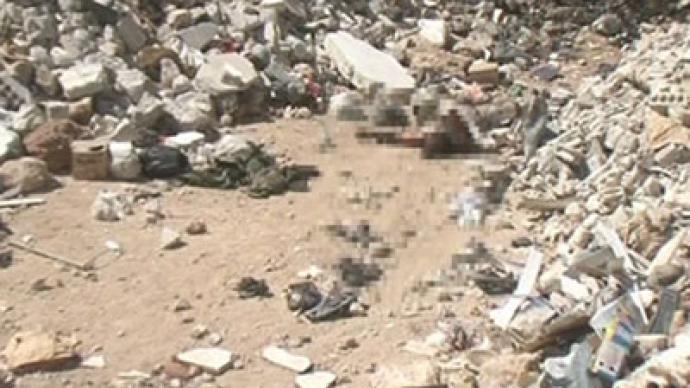 As the Syrian Army expelled rebel forces out of the capital of Damascus, soldiers discovered a mass grave of 20 corpses buried under rocks and other debris.
The mass grave was uncovered in the Yelda district of Damascus, which had been under rebel control for the past few days. The 20 corpses the army dug up were burnt and defaced, said China's Xinhua news agency.  Armed men harassed and killed the civilians, and then buried the bodies, locals told RT Arabic's correspondents. Some described the stench of dead corpses blanketing entire areas of the city. The victims reportedly include both civilians and military personnel. Others claimed that the number killed is much higher than the 20 reported.RT Arabic filmed footage of the gravesite, but it was confiscated by police as they were leaving. Evidence of acts of mass-murder has been surfacing in the past month. An amateur video from Syria emerged online showing the apparent mass execution of Assad supporters in Aleppo by Free Syria Army rebels on July 31. The footage showed several bloodied men in their underwear being forced to kneel by a wall amidst an excited crowd, before they were shot dead.This latest violence comes days after Kofi Annan announced that he will resign as the UN-Arab League Special Envoy to Syria at the end of August.
You can share this story on social media: