Mass exits over as Russian planes reach Moscow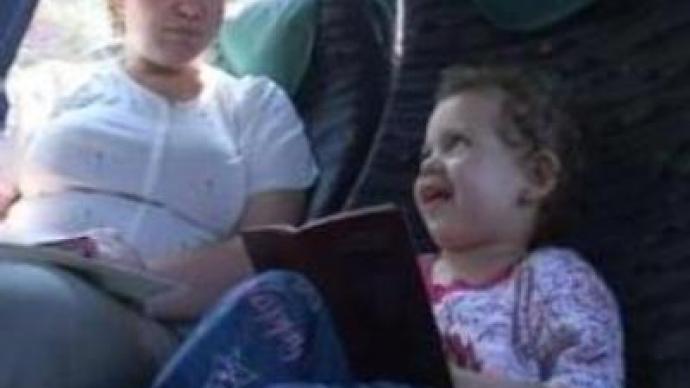 Two Russian Ministry of Emergencies flights carrying Russian and CIS refugees from Syria landed in Moscow, returning 216 from the conflict zone.
This ends mass evacuations of Russian citizens from
Lebanon
but authorities say the process will continue so long as there are people willing to leave. Russia Today correspondent Svetlana Kurakina saw off a group of refugees from Lattakia airport in
Syria
, as more than 160 Russian and CIS nationals waited to be taken to safety at the gates of the Russian embassy in
Beirut
. For many of them, leaving had been a tough decision, Kurakina reported.One of the refugees, Natalia from
Belarus
, fled the Lebanese city of
Saida
with her nine-month-old son, Atev, and five-year-old daughter Rima, leaving her Palestinian husband behind. "I had a lot of pressure from my parents, friends and my sister back in
Belarus
to leave," Natalia said. "I love
Lebanon
a lot, it's a beautiful country, and my relatives here are great. It's so hard to leave," she said.Other women had similar stories. Elena, a Russian, had been living with her Lebanese husband and daughter Maria in Dahya, a southern suburb of
Beirut
. After less than two years of happy family life, Elena was not ready to leave her new homeland so soon. "My husband's staying here, it's awful. My daughter wants her father back. I want our family to be together, it's a terrible feeling. I feel sorry for the country. I want it all to end, to come back here," she told Russia Today's correspondent.This was the last chance for the refugees to leave with a Russian embassy convoy. No more buses will be provided.
"If more people call on us, we'll deal with each case individually," said Aleksey Salamatin, advisor to the Russian ambassador. "We'll use all the possibilities we have of putting them on foreign ships that will be evacuating their own citizens." It is unclear how many Russian nationals remain in
Lebanon
. Embassy officials said everyone who wanted to leave had done so.
You can share this story on social media: