Mysterious rock appears near Mars rover Opportunity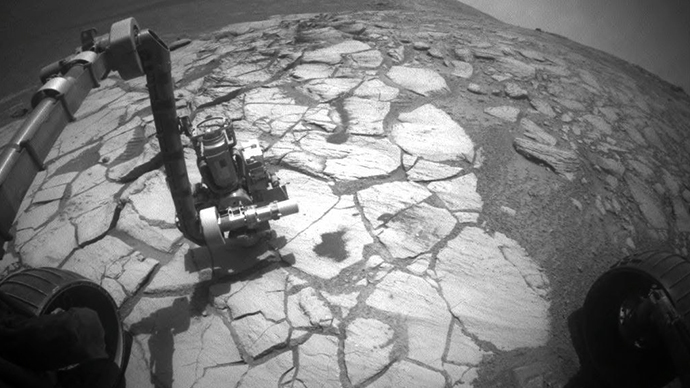 An odd-looking bit of rock mysteriously appeared in front of Opportunity rover in the beginning of January as the rover, waiting out the Martian winter, has not moved since the end of November, according to NASA.
The rock suddenly appeared on photographs taken by Opportunity Mars rover on Sol (Martian day) 3540 or January 8 Earth time, according to NASA's website.
Photographs previously taken on Sol 3536 showed no trace of the rock. The body was named 'Pinnacle Island', according to Opportunity's Pancam database descriptions.
Looks like Opportunity's 'Pinnacle Island' appeared between Sols 3536 and 3540: http://t.co/DBT2yfJ7h8

— Midnight Planets (@MidnightPlanets) January 11, 2014
The discovery sparked debate among bloggers with various suggestions of the rock's origin.
Among some of the wildest suggestions was the theory that it's a meteorite, and it literally fell from the sky and landed next to the rover, according to Road to Endeavor blog. Or that the rock is a piece of ejecta – a piece of Martian rock which landed here after being blown out of the ground by a meteoroid impact.
While more believable theories said the rock was something kicked up by Opportunity on its Sol 3540 turn, according to Midnight Planets blog. On January 7 the rover turned to a new target - 'Cape Elizabeth', which would be the rock underneath 'Pinnacle Island.'
Close up of "Pinnacle Island" the fascinating rock which Oppy has spotted... pic.twitter.com/FvaxlGo3Je

— mars_stu (@mars_stu) January 11, 2014
Currently the rover is at "Solander Point" at the rim of Endeavour Crater, maintaining favorable northerly tilts for improved energy production as it waits out the Martian winter, according to NASA.
In January 2004, NASA's twin rovers Opportunity and Spirit landed on opposite sides of the Red Planet. Spirit operated until 2010 when it got stuck in sand, and later stopped communicating with mission control.
Opportunity has lived beyond its prime three-month mission and has been gathering valuable information for nearly 10 years.
The rover is equipped with a powerful set of tools to study Martian soils that may hold clues to past water activity on Mars. A decade ago Opportunity did indeed find hematite on the planet in the form of small concretions nicknamed "blueberries." This provided some of the first evidence of liquid water on the red planet.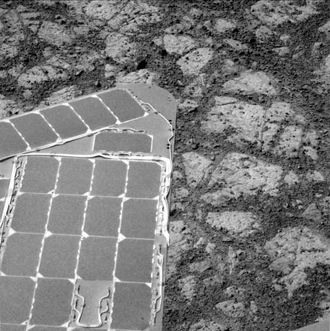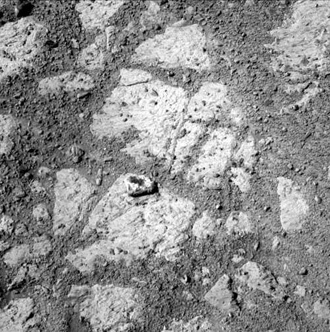 You can share this story on social media: