Mars 'Curiosity' stuns scientists, stirs speculation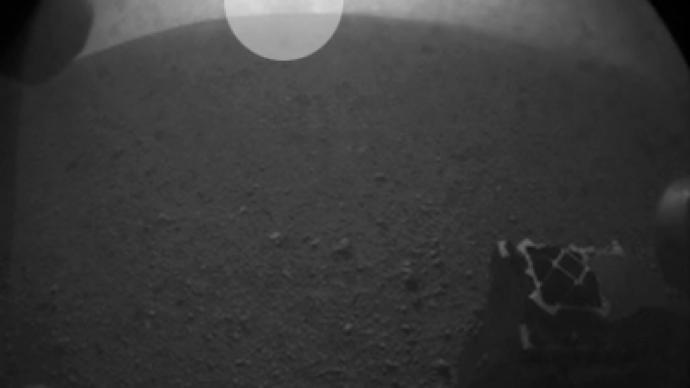 The aptly-named Curiosity took its first images of the Mars crater where it landed, giving rise to wild speculation. While scientists were agog over the eerily "Earth-like" surroundings, sci-fi enthusiasts pondered a mysterious dot in the photos.
"The first impression that you get is how Earth-like this seems looking at that landscape," said chief scientist John Grotzinger of the California Institute of Technology.The first high-res photos taken from the rover's navigation camera bear an uncanny resemblance to the Mojave Desert in California. They show a black-and-white panorama of the pebbly Gray crater flanked by craggy mountains.
However, it was the first poor quality photos that the probe sent to Earth shortly after landing that enthused science fiction fans. One of them showed a blurry landscape and a faint blotch floating above the horizon that mysteriously vanished in later photos. Some suggested Curiosity has managed to snap the wreckage of the rocket that brought it to the Red Planet.Given the fantastic improbability of the probe capturing a photo of the craft, the theories have been dismissed as mere speculation and dust on the lens of the camera.However, mission manager Michael Watkins said that it was worth looking into even though it would be of "little scientific value.""It would be incredibly cool … A crazy, serendipitous thing," Watkins said.Of particular interests to NASA scientists were the scour marks left by the landing thrusters that exposed bedrock that will aid in analyzing Mars' surface. "It kind of makes you feel at home. We're looking at a place that feels really comfortable," said Grotzinger.After its eight-month odyssey, the one-tonne, nuclear-powered Curiosity will undergo several weeks of checks before beginning its two-year mission.The primary goal of the $2.5 billion probe is to establish if Mars once had water on its surface and if there are any signs of life having existed. Its mission will culminate at the base of Mount Sharp which stands in the center of Gale crater, four miles away from the landing site. Scientists have said that the mountain shows telltale signs of the presence of water in the past.
You can share this story on social media: