3 dead, 13 injured as anti-govt protesters rally near Ukrainian military base - Interior Ministry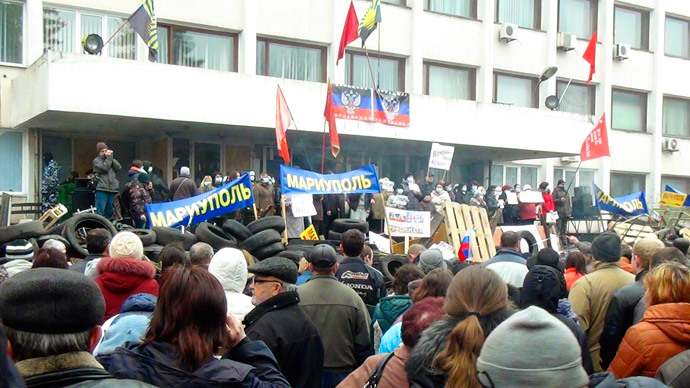 Three people were killed and thirteen others injured by gunfire in a confrontation between anti-government protesters and soldiers stationed at a military base in the Ukrainian city of Mariupol, Interior Minister Arsen Avakov says.
Follow RT's LIVE UPDATES on military operation in eastern Ukraine
Avakov wrote on his Facebook page that three of the anti-government activists that clashed with soldiers at the base had been killed, referring to them as "armed militants."
At least 63 people were detained overnight following the incident, but 25 of them were then released within hours.
Police "could not charge those 25 people with anything," Ukrainian Interior Ministry adviser, Stanislav Rechinsky, told journalists, as quoted by Itar-Tass.
On Wednesday evening, a group of several dozen protesters arrived at the base, located in the turbulent Donetsk region.
They called on the troops to abandon the base, but the soldiers didn't listen, the demonstrators said.
Instead, the troops opened fire at the protesters, injuring at least four people. One of them took a bullet in his chest and is in serious condition, according to protesters.
Some local media said the protesters were armed with Molotov cocktails, which they used in the confrontation.
Media reports also say that several stray bullets hit two apartments in a nearby resident building, shattered a window, and pierced a gas pipeline.
The crowd retreated after the shooting started. The city's website said that clashes have moved from the base to surrounding areas, adding that single shots can be heard near the local hospital.
Ukraine's security service and Mariupol police conducted a joint operation at around 1 a.m. local time, according to Mariupol's website, detaining dozens of people.
Protester chatter blames unidentified provocateurs for the shooting. Demonstrators say a group of people arrived at the protester-held City Hall of Mariupol and called on people staying there to go to the military base to try to seize it.
Еще фото с главной улицы. Пр. Ленина перекрыт #мариуполь #новости #сейчасpic.twitter.com/cWVxKd82Lm

— Sergey Osadchiy (@Sergey_Osadchiy) April 16, 2014
Local residents reported military jets flying over the city.
Donetsk region has been gripped by anti-Maidan protests since last week, with activists seizing a number of governmental buildings in several cities and towns.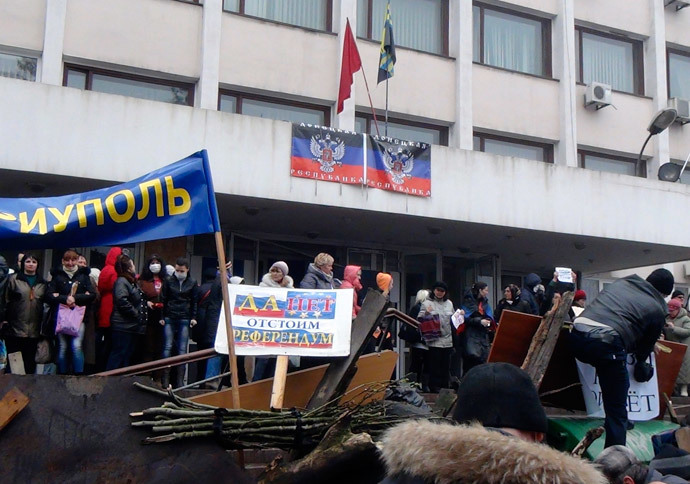 Kiev's coup-imposed authorities announced an 'anti-terrorist operation' involving military units against the protesters, but have so far had little success in the crackdown.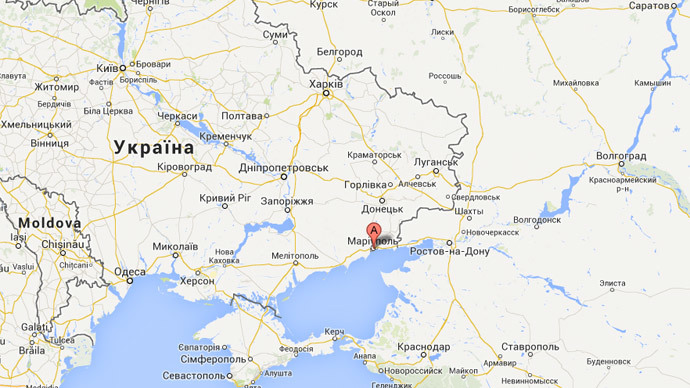 You can share this story on social media: