March to Jerusalem: A look from Beirut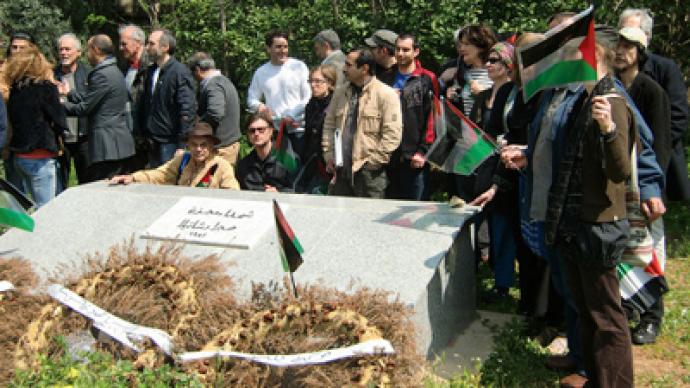 The first Global March to Jerusalem will take off in dozens of cities across the world following a noon prayer on Friday, March 30. The street action planned in Lebanon is expected to be the most politicized.
­RT correspondent Nadezhda Kevorkova follows the preparations for the event in Beirut. Most of the prospective participants of Beirut's March to Jerusalem are Palestinians and Lebanese. Palestinian refugee camps are introducing lists of marchers as a precaution against provocation and bloodshed. Some 268 activists from Europe and America have arrived in Beirut for the march. Another 150 visitors (mainly coming from Asian nations) were still being kept in the Port of Beirut as this story was being filed. The march's organizing committee reports these people are not being permitted into the country, and they have not received either food or water since the morning of their arrival.
American singer Stephan Said in Bourj el-Barajneh camp Originally, March 30 has been marked as the Land Day beginning in 1976, commemorating the plight of the Palestinians of Galilee, who were expelled from their homes, driven out of their land and murdered. Revolutionaries in Egypt were planning to launch a Million March last year to show their solidarity with the Palestinians and their cause. However, the Egyptian Provisional Government would cancel the march time after time. The Year of Revolutions and the Arab Spring in the Middle East have prompted some observers to jump to a conclusion that the Palestinian issue looks simply irrelevant these days against the background of such sweeping changes. Now a global political action is in the works to reconfirm the world's solidarity with the Palestinian people. It involves every known Palestinian organization, and is being co-sponsored by other Arab groups, Islamic and Christian alike.
Gretta Duisenberg­Activists in Egypt, the Gaza strip, the West bank, Jordan, Syria and Lebanon are planning to march to the Israeli border with their respective localities. In Israel, Muslim marchers will proceed to the al-Aqsa Mosque in Jerusalem, while Christian marchers will head for the Church of the Holy Sepulchre for a prayer. In other countries, an Israeli embassy will serve as the destination for the march. Activists from the march's Beirut organizing committee explain that all venues and actions prepared under the aegis of the march are considered equal. The march in Beirut is expected to be the most politicized, as it is being co-sponsored by Hezbollah and Hamas. Local Shias, Sunnis and Christians are expected to attend. The march in Jordan is expected to draw the highest numbers, as 70 per cent of Jordan's population are ethnic Palestinians.
Memorial to victims of the Sabra and Shatila massacre­Activists will march under the flag of Palestine rather than flags of specific Palestinian organizations. They do not plan to attempt breaking through the Israeli border. "This will be the first march of the kind," says Assad, a 28-year old activist of the Arab Youth Nationalists union. We are on a ride to the Sabra and Shatila Palestinian refugee camp in southern Beirut, where some of the foreign participants of the march are gathering. "We are expecting rabbis from Neturei Karta, from London and the US. Our commitment takes root in our faith, and our cause is not an end in itself. That is why the Palestinian issue brings all of us together: Christians, Muslims and Judaists alike. Israel has got state-of-the-art weapons in abundance, and what we have is our dignity and our will," says Assad.
Sabra and Shatila­Sabra and Shatila is probably the most famous of all Palestinian refugee camps. It became the site of a massacre in the autumn of 1982, when a Lebanese Christian Phalangist militia and Israeli troops led by Ariel Sharon launched an assault against the refugee camp, slaughtering hundreds of civilians. Nowadays, the site of the tragedy features a grove planted to commemorate the victims. This is probably the only refugee camp in the world where space was made available amidst a normally crammed slum to accommodate a grove. ­Famous American singer Stephan Said, an anti-war activist from New York and the author of several anti-war songs, is taking part in the march. He supported the Occupy Wall Street movement. Said is 43 years old, the son of an Iraq father and Austrian mother. "I was born in America, I sopped its culture. I feel that I can be useful. The world has been set in motion. Look how many Jewish groups around the globe are advocating Palestinian rights!  Even Thomas Freedman is writing that time has come to take the measure of Israel's policy. I am an optimist. I was at Tahrir Square in Cairo. The world is changing."  
Evelin Hecht and her husbandGretta Duisenberg from Amsterdam first learnt about the Palestinian movement during the Second Intifada. She posed a question why her neighbors had put up Israeli flags outside their houses, and found out they had done so in support of Israel's military actions, which aroused her interest in the Middle Eastern affairs. She deemed it her duty to do at least something to balance what she considered to be unfair, so she decided to hang a Palestinian flag. At that time, her husband worked at the World Bank but even he made no secret of his convictions. It took the couple twenty years to create an organization of solidarity with Palestine. The price of that was a ban on entry to Israel. Gretta says that in the Netherlands, protest rallies against support for Israel will take place outside parliament on Thursday. Similar protests will be organized outside the Israeli embassy on Friday.
Kenneth StoneThe Hechts are a Jewish couple from Germany.  "My father was the head of a society of Jews who survived the horrors of Auschwitz. They couldn't ban me from visiting Israel. But I don't go to Israel because I don't want injustices to be done to the Palestinians in my name," says journalist and activist Evelin Hecht-Galinsky.   Evelin was a designer. She and her husband owned a textile company. She thinks that her compassion for the Palestinians started with a swift, passing emotion when she and her mother visited Israel in 1967.  "The Israelis spoke ill of the Palestinians while the Palestinians were nice and friendly…"  
Streets of Sabra and Shatila ­Kenneth Stone, a French language teacher from Canada, also felt sorry for the Palestinians when he visited Israel under the Law of Return."My cousin who lived in Israel was residing on land taken away from the Palestinians. I couldn't understand why Palestinians had to beg for a job at an employment bureau. That land belonged to them. My cousin grew to hate me for my questions. She has left Israel long ago," Kenneth said.   Stone believes any action supporting Palestine can be effective, though the media often portrays the demonstrators as a handful of petty and marginal individuals. He is sure that Canada failed to become a UN Security Council member because of its government's unconditional support for Israel.Elisa Davinca of Austria explains her interest in the refugees' destiny by the fact that she herself comes from a family of refugees. Her parents were Germans resettled from Croatia and the Czech Republic. "I am also a child of refugees. I understand them," she said.  Elisa is an Internet activist working in social networks, creating communities and devoting all her time free from university studies to the work.  She's a member of the "Women in Black" organization, which an Israeli woman founded in Haifa twenty years ago. 
Girls in a Sabra and Shatila camp­Nadezhda Kevorkova, RT, Beirut