"Manning will never step out of prison" – analyst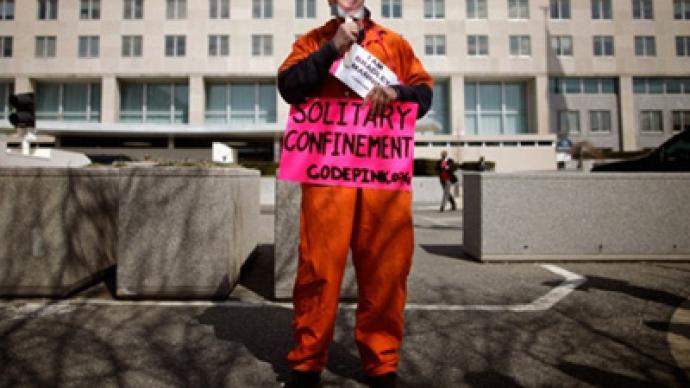 The US soldier accused of passing thousands of secret government documents to the whistleblower Wikileaks is to be transferred to a new prison.
Bradley Manning has been held at a marine base in the US state of Virginia for the past 10 months in conditions that his supporters claim amount to torture. Activists have recently increased their criticism of Manning's detention. "There is enough anecdotal evidence to assume that he is being held in what would be cruel and unusual conditions by any normal definition. And I think that the transfer itself is the function of the interest in the case. It has been generated by members of US Congress, particularly Dennis Kucinich, who is the congressman from Ohio, who has been critical of the Defense Department and the authorities at the marine base where he [Manning] has been transferred from," says Professor Lawrence Davidson from the West Chester University. There is no information from the Pentagon as to when Manning will be moved from his current detention center Quantico, a maximum-security prison, to "another prison under conditions that may be less restrictive", namely Fort Leavenworth in Kansas. According to Davidson, Washington is trying to make an example of Manning to serve as a warning to others."You have to understand that the US government has probably achieved its objectives in this case. They have treated him so harshly and so severely denied him his basic rights that the warning is out that anybody else out there who wants to do this, who is a US citizen and wants to be this kind of informant, is going to be treated in the most harsh way. His or her life will be ruined. Just like Manning's life has been ruined."The US government, says Davidson, is going after many of the supporters of Wikileaks, both people who work with the organisation and those who support it financially. Many backers who live in Europe are afraid to go back to the US. "This is essentially how you do it, how you want to prevent this thing from happening again. And you simply make people so scared they will not cooperate with Wikileaks. But of course there are always those who will," adds the professor. Speaking on the Manning's future Davidson said that "they will keep him and they will deal with him really harshly. He is an example for others not to do this." "Manning will never, I do not think in the foreseeable future, step out of the prison,"  says Manning.Manning, a 23-year-old Oklahoma native, was arrested on May 26, 2010, in Kuwait on multiple charges involving transferring classified information, passing top secret cables, war logs and videos to whistleblower website WikiLeaks.He has been in "maximum custody" solitary confinement at Marine Corps Brig, Quantio, Virginia since July 2010.
Kevin Zeese, an attorney and member of the Bradley Manning Support Network, believes that even if Manning did pass the information to Wikileaks, it was not an illegal action, but merely a desire to show people what is really going on in the army. "What do you do as a soldier in the military? Do you become complicit in the violations of law or do you try to stop them by exposing them to the media? He did not sell them to a foreign government, he did not give them to a government that's opposed to the United States. He allegedly gave them to the media. That's all he's doing, he's giving information to the media, so that the people of the United States, who supposedly control this government are informed and can take appropriate action," said Zeese.
Bradley Manning is just one of many people who were sent to Iraq and Afghanistan, saw the reality of these wars and decided to speak out. And now the government is using such harsh methods on him in order to stop this from spreading, says Iraq War veteran Michael Prysner. "The government is taking a particular interest and making an example out of this person, because, really, he is just one of many thousands of soldiers in the US military that see these wars are based on lies, see they have no reason to fight them, and are working to try to expose that.""And I think the movement within the military of soldiers who are telling the truth while the government is lying, is something very powerful and something this government is very scared of," said Prysner.
Jeff Paterson, director of the Courage to Resist project, believes Manning is accused of nothing more than sharing the truth with his country. "I think anybody involved in the leaking of this information deserves praise. They deserve the public support not only of Americans, but people around the world. A public discourse and real democracy is still benefiting from the information that's coming out on a regular basis from Wikileaks," said Paterson.
You can share this story on social media: