Air Farce 1: Drugged-up man in underpants eludes security to party on Merkel jet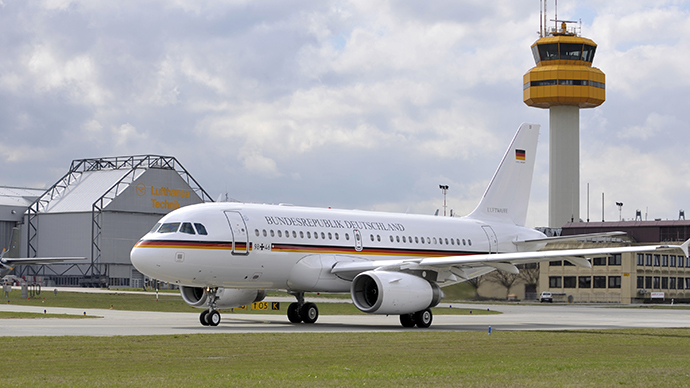 German authorities are investigating how a man managed to slip through security and embark on a drug-fueled rampage around Chancellor Merkel's jet. The scantily-clad hijacker could even have taken the fuelled-up plane for a joy flight.
Police detained a 24-year-old bodybuilder known as Volkan T. on the night of July 25 after he reportedly caused US$133,720 of damage to the jet used by Chancellor Angela Merkel. The story hit German headlines a month ago, but it remained a mystery how Volkan managed to penetrate airport security with such ease.

A police report leaked to German press on Tuesday revealed how it took police over three hours to take the semi-naked party animal into custody. It also recommended that Germany ramp up its security in the wake of such a blatant breach.

"The investigation is focused on the charges of dangerous interference in aviation but also trespassing and damage to property. As part of that probe it's of interest how the accused got onto the site and into the plane," prosecutor Ulrich Bremer told Spiegel Online.

On the night of July 25, Volkan drove from his home in Cologne to the airport, reportedly high on drugs. He succeeded in slipping past a security post by saying he had been invited to a wedding party in the officers' quarters.

Once within the airport, Volkan scaled a barbed wire fence and located Merkel's jet. He clambered on to a wing and entered the cabin through the open emergency exit, whereupon he stripped down to his underpants and embarked upon a wild one-man party.

Volkan rampaged through the Airbus 319, setting off a fire extinguisher on the plush interior, dancing on the wing and deploying the inflatable emergency slide. The authorities eventually became aware of Volkan's antics at 8:40pm, when he inadvertently set off an alarm while pressing buttons at random in the plane's cockpit.

Police arrived on the scene at around 10:16pm, surrounding the aircraft and demanding that Volkan leave the plane.  When the 24-year-old failed to emerge, officers sent in police dogs and the solo reveler was eventually taken into custody at 11:23pm with two bite wounds to his leg. He has since been held in a secure psychiatric hospital.

While her jet was being commandeered for a drug-fueled, one-man party, Merkel was hundreds of miles away, enjoying a rendition of the opera 'The Flying Dutchman' in the Bavarian town of Bayreuth. The chancellor is currently in Bavaria as part of her campaign ahead of September elections.