Man stabs 3 invaders to protect family, may face life for murder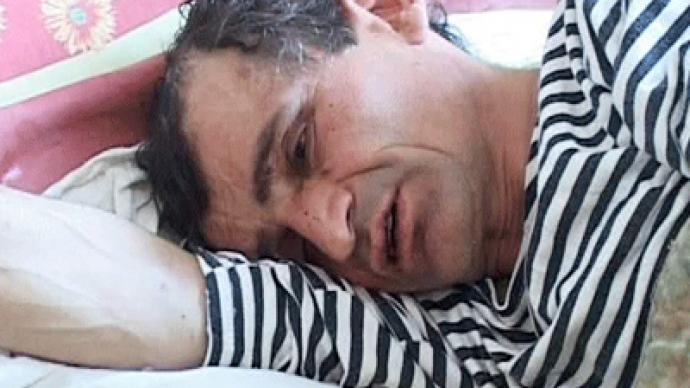 A Russian businessman killed three home-invaders with a kitchen knife after they attacked his family and held his seven-month-old grandson at gunpoint. He now faces a life sentence for what may be qualified as a triple murder.
On Saturday, four armed men broke into the house of Gegham Sargsyan, 52, in Russia's Tula Region, some 240 kilometers south of Moscow. All his family – wife, daughter, daughter-in-law and four related children – gathered in the living room to watch a TV show. "They just pounced on us and began to beat the baby. A seven-month baby! They held a pistol to his temple. They started beating up a seven-year-old girl and two three-year-old boys too. It was just…horrific!" recalls Sargsyan's daughter-in-law, as reported by Channel One.The intruders threatened to kill everyone in the household and demanded money and valuables to be handed over immediately. One of the men had his face partially concealed by a scarf, while others did not bother to hide their identities. Russian media speculates this could indicate the assailants' intent not to leave any witnesses alive.The attack lasted for some 30 minutes, during which robbers tore off gold jewelry from the women and routinely beat all members of the family. According to Life News tabloid, the assailants were armed with pistols and a baseball bat. After turning over all valuables and money, Sargsyan said he had nothing more to give, but the robbers would not take "no" for an answer."They demanded [more money]. They had a knife and a gun… They stuck a gun in my mouth," Sargsyan said. However, the man allegedly managed to break free from their hold and dashed to the kitchen, where he grabbed a kitchen knife. "One of the attackers chased me, he did not see me straight away," Sargsyan recalled. "I stabbed him in the stomach." He stabbed the second one in the head, but the most important thing, he says, was "to knock down the one that held the gun. The rest was easy."Sargsyan says knife fighting is a skill he acquired while serving in the army, as well as during the many years he has hunted.Three of the home-invaders died before the ambulance could make it to the house. The fourth was injured, but managed to flee the scene. All of them have been identified by police, and all four have previous criminal records.
Life sentence for protecting loved ones?
A criminal case opened into the incident cites "the murder of two or more people." On Monday, local investigators declared that Sargsyan's actions, while in self-defense, could have been excessive.The choice of the Criminal Code article and the announced course of investigation caused immediate public uproar. Many see the Tula businessman, who has been taken to hospital with concussion and knife wounds, as a hero and a man totally devoted to his family."Good work, man! It's a shame the fourth one got away!"; "It will be sad if he ends up behind bars," read numerous comments on Russian web news outlets and social networks.There are also increasing fears that the case will be treated formally and Sargsyan will spend the rest of his life behind bars. This may happen if in the end investigators charge the man with multiple homicide. Similar suits are usually tried unfavorably with respect to those who had to resort to self-defense, notes defense attorney Dmitry Agranovsky.Within a few hours the outrage against the investigation took the form of an online petition to the Russian president under the slogan "Self-defense is a heroic deed, not a crime."The governor of the Tula Region has pledged his support for Sargsyan; with similar pledges coming from the Russian Public Chamber whose head, Anatoly Kucherena, is planning a personal visit to Tula.The anger resulted in the chief of the Investigative Committee holding a news conference in which he stressed that besides the excessive self-defense authorities are looking at cases of regular self-defense and a murder in an affective state."There is no final classification of Sargsyan's actions yet," pointed out Vladimir Markin.After Sargsyan's actions are classified, official charges will be brought against him. But so far, the man has neither been detained nor put under house arrest nor demanded to stay in the country until the investigation and court proceedings finish."We do understand that a person protecting his house and family from armed robbers cannot always control his or her actions. At such moments instincts prevail," Markin told journalists.Still in hospital, Gegham Sargsyan is eager to return to his loved ones as soon as possible, fearing for their lives while the fourth assailant is still on the loose. He also hopes his case will be assessed as self-defense, and not multiple homicide."A criminal case is likely to fail," believes Dmitry Agranovsky. "It is impossible to classify his actions as criminal. Criminals broke into his house and threatened the lives of his family members. It will be recognized as legitimate self-defense. The maximum he faces is interrogation."
Elena Ostroumova, RT
You can share this story on social media: